"Old Bricks - history at your feet"
Northern Ireland
---
Castle Espie
There is a WWT Nature reserve situated on the western shores of Strangford Lough, County Down, Northern Ireland. The present lakes on the site were former brick pits and this brick is from the old workings there. Photo and info by Richard Symonds.

---
Laverty




Laverty & Co. operated the Albert Brickworks in Carrickfergus, Co. Antrim, until c. 1950. Photo and info by James Rutherford.
---
S McGladery & Son




Samuel McGladery & Son Ltd. made bricks at various sites in and around
Belfast between 1859 and 1970. Photo and info by George Rutherford.
---
Musgrave & Co, Belfast


Musgrave & Co. Belfast primarily made stoves of all sizes for the home or larger buildings, heating apparatus, stable fittings & high-class ironwork. These fireclay bricks were made to line their stoves. Found on the web a reference referring to an advice note for the company to supply Thomas Daws of Robertsbridge with pipework, bricks & fireclay for a stove in November 1898. Info & Photographed at Bursledon Brick Museum by Martyn Fretwell.

---
A Sloan




"Andrew Sloan & Co., fire-brick and tilemaker, Bridge end, Ballymacarrett" is listed in trade directories from 1852 to 1877. Ballymacarrett, Co. Down, became absorbed into Belfast. Photo and info by George Rutherford.
---
Ulster Fire Clay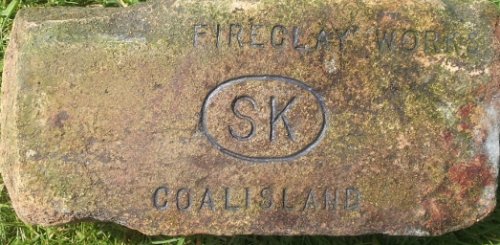 The S K stands for Schiedel Kaminwerke. Found on a beach in Ayrshire. Photo by courtesy of Scotland's Brick Industry.

---
W D H & Sons, Belfast




Photographed at Corris by Martyn Fretwell.

---
Next page: Coping & edging bricks

Return to the index page