The Buckley Area
At one time there were 25 brickworks in and around Buckley in Flintshire, North Wales. Most of them stretched in an arc through the north end of the town and all were served, or connected by tramway, to the Buckley Railway. This provided a vital transport link, in particular to Connah's Quay and its port. This export trade led to the introduction of a unique form of transport - the shipping box. This was a narrow gauge vehicle with small wheels built to carry bricks. The wagons were run onto special standard gauge vehicles at the nearest railhead or private siding and on arriving at Connah's Quay were unloaded from the transporter wagon and placed directly into the holds of waiting ships. Subsequently the empty shipping boxes were returned from the customer and the cycle started again. The Buckley Society is an active industrial history group specialising in the history of the Buckley brickworks.

---
Ashton, Buckley
Made at Knowle Lane brickworks. One of Buckley's earlier brickworks, having been established in the 1790's. Richard Ashton operated Knowl Lane Brickworks off Church Road Buckley between March 1841 and his death in March 1867. The site is now a housing estate. If you look on Google Earth 'Coniston Drive' CH7 3LA in Buckley is roughly where the brickworks stood. Upon the owners death Ashton's was leased by his widow to two brothers Frederick and Richard Prince who continued production there still trading under the company name. Presumably their products would have carried the Ashton's stamp after his death. Frederick had been a Manager at the works for Richard Ashton, it ceased trading in 1902.



Found by Mark Irwin in Glasdrummond/Mullaglass, a very small townland outside Newry in Northern Ireland

---
Buckley Brick & Tile: Brookhill brickworks/Gibsons/Gibsonite
Buckley Brick & Tile Co. Ltd was active from 1865 to 1963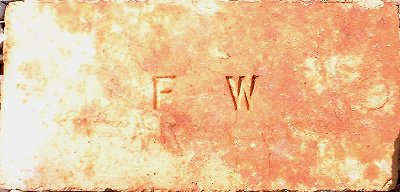 FW is Flintshire White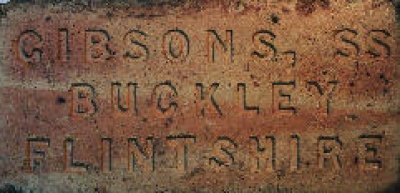 The Metalline brand was registered in 1885.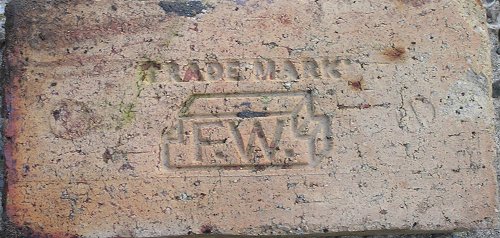 Photographed on the seashore at Crosby, Merseyside.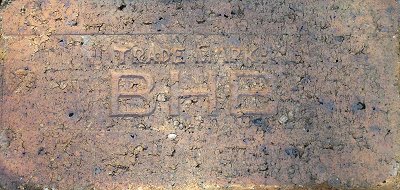 Found near Wrexham, B.H.B is Brook Hill Blue.



Gibsonite block, courtesy of the Buckley Society.




Photo by courtesy of the Buckley Society.




Photo by Richard Symonds.




Photographed in Corris, Powys.




Photographed in Corris, Powys.




Photographed at Corris by Martyn Fretwell.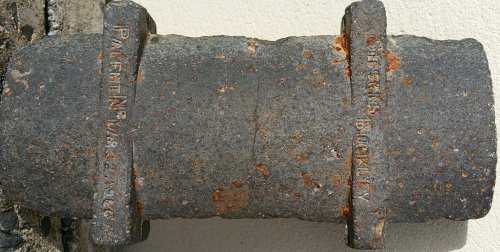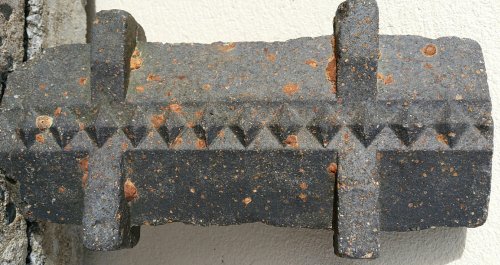 Discovered on Baltray beach near Drogheda by Niall Kierans. Possibly from a shipwreck. Gibson's made engineering bricks from a particularly acid and heat proof clay and this could be an example of one.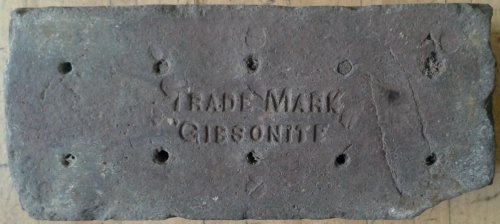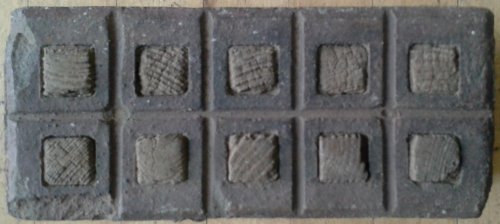 Front and back of a Gibsonite paving brick. This one has a unique purpose. When the Queen Victoria Jubilee Bridge at Queensferry, Flintshire was built in 1897 the timber roadway quickly wore away and Gibson's brickworks at Brookhill, Buckley were contracted to supply a suitable hard wearing brick to resurface it. The brick is of extremely hard blue clay with pieces of what looks like hard wood pegs fitted firmly in the slots presumably for grip for horse transport. The underside has holes either for water to drain through or maybe so that there was an escape for air when they hammered the timber pegs tightly into the recesses. The wooden bridge was demolished in 1926 and replaced by the well known 'blue bridge'. Part of the collection of Bernard Trickett, photo and info by the Buckley Society.

---
Buckley Junction Brickworks, Jacobean brand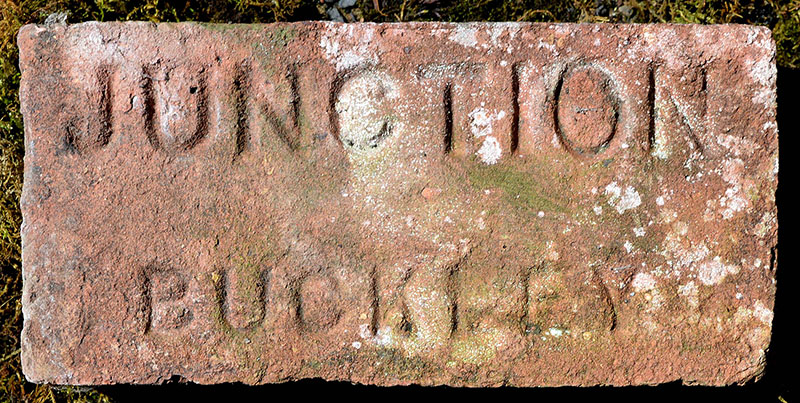 A late starter by Buckley standards, the works were opened in 1911 by Messrs Jones & Lamb. It was later purchased by Castle Firebrick Co. and closed in 1959.
Buckley Junction brickworks was established by John Jones and Henry Lamb in 1911 when they took on a lease of the site and set about working the clay. In 1919 Frederick Phelp Jones acquired the business and renamed it the Buckley Junction Metallic Brick Co Ltd. The company used the trade marks 'Jacobean' and 'City' for some of their facing brick products. In 1956 after the company became bankrupt the works were acquired by the Castle Firebrick Co, but this only lasted for three years before complete closure. Photo and information by David Kitching.



Spotted in Oswestry by Mike Shaw. Made when the company was part of British Clay/ceramic manufacturors, a trading organistaion of several brickworks.




Photo by Mike Shaw.

---
Castle Firebrick Company



Found by Stephen Payton near the site of Connahs Quay railway station

The original Castle Brickworks was established by William Malcolmson and George Alletson in 1866 with the Castle Firebrick and Coal Company being formed in 1875. In August 1925 the company put an additional new works into production at the former Elm Colliery site. This works concentrated exclusively on the production of building bricks and finally closed in August 1970 as investment in new plant was necessary and demand for bricks had been declining for some years. In its later years it was owned by John Summers & sons.



Photo by courtesy of the Buckley Society.

---
Catherall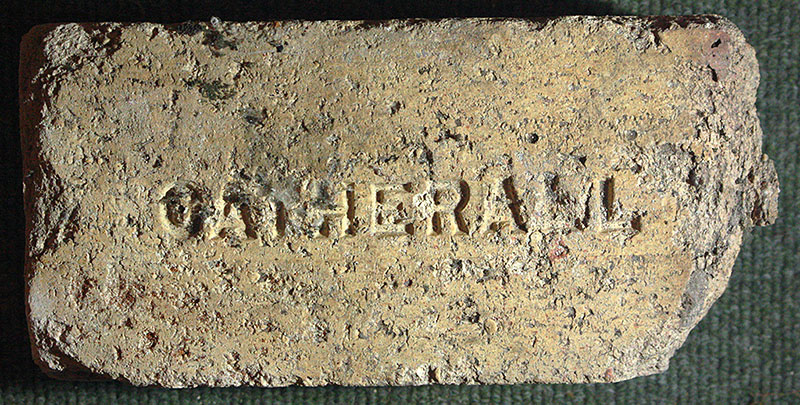 Jonathan Catherall (1689-1761) played an important part in the development of the industry. Catherall and Company survived in Buckley until the late 19th century, moving increasingly into brick and tile manufacture.



Found on a possibly 1790 roof at Edern near Nefyn, Gwynedd by Terry Hughes.

---
Charles Davison & Co.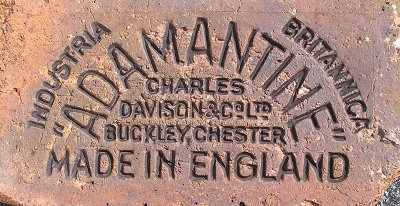 August 2011: A fisherman in Batticaloa, on the east coast of Sri Lanka, has just reported dredging an Adamantine brick up in his nets! June 2012: More Adamantine bricks found off Sri Lanka. There is a copy of an old Davisons catalogue here.



Photographed at Four Oaks Reclamation Yard nr. Sutton Coldfield by Martyn Fretwell.




Photographed at Corris by Martyn Fretwell.

Davison's specialised in refractory and acid resistant bricks. Charles Davison's Ewloe Barn Brick and Tile Works and Old Ewloe works was active from 1933 to 1951, and was later merged with General Refractories Ltd, and then taken over by the firm of G. R. Stein Ltd. The site closed in 1967.
Gordon Hull found the above example during the demolition of buildings at Harehope Quarry and the Fluorspar Washing Plant at Frosterly in Weardale, County Durham.



Found by Frank Lawson on the banks of the River Humber close to theCapper Pass works at North Ferriby

A 'Hysilin' brick stamp on display in Buckley Museum.



Photos by courtesy of the Richard Symonds collection.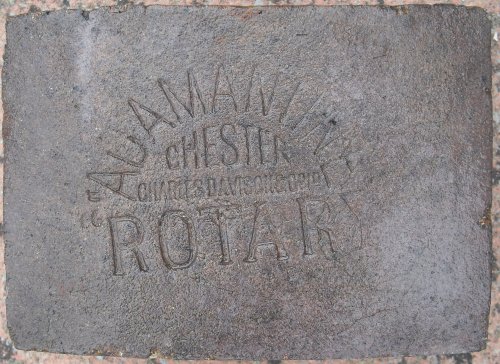 A 'Rotary' block made at Davison's for use in cement kilns. It is slightly curved in shape to line the kiln. Photo by courtesy of the Buckley Society.




Photos by courtesy of the Buckley Society. Paul Davies of the socity writes: Obsidianite bricks got their name, I am told by Ron Millward the 96 year old former Office Manager at Davison's, from Obsidian which is a term for molten lava which has set solid and would withstand exposure to most acids. It didn't like exposure to fluorine gas though. Ron tells me they were used a lot by cement manufacturers to line the tops of chimneys where acid formed and eroded traditional bricks. When I was cleaning the moss etc. from it I used a wire brush briefly and sparks were flying from it!

Wikipedia definition - Obsidian is a naturally occurring volcanic glass formed as an extrusive igneous rock. It is produced when felsic lava extruded from a volcano cools rapidly with minimum crystal growth.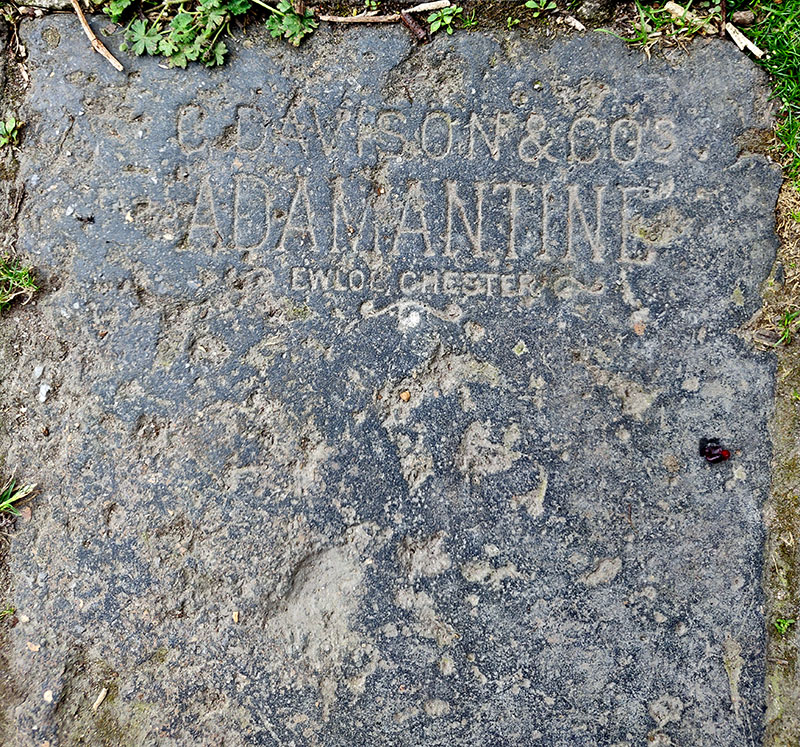 Photo by Iain Taylor.
---
Drury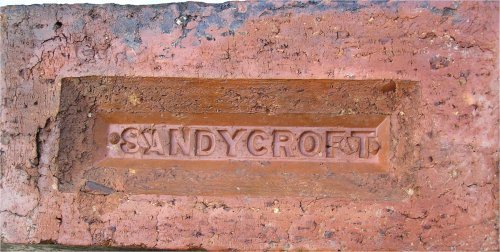 In the early 1860's Sandycroft Colliery & Brickworks worked the site. It then passed through many hands until ownership by the Shone family, finally closing in the 1960's.



Photographed at Corris by Martyn Fretwell.

---
Etna
The company of George Watkinson and Sons owned brickworks and collieries in Buckley in the 19th and 20th centuries, including the Etna brickworks.
---
Gibsons: see under Buckley Brick & Tile entry

---
Globe
The Globe firebrick Works opened in 1878 and it ended its life as a pottery works, closing in 1912. The wooded area of flooded clayhole is now one of Buckley's only remaining links to its brickmaking past.
---
Hancock's Lane End Brickworks
The last brickworks in Buckley was at Lane End: it had been established in 1792 by John Rigby and William Hancock. In 1956 it became the property of the Castle Firebrick Company who also took over several of the other brickworks. Butterley took it over in 1971 and at its closure, announced in February 2003, it was owned by Hanson's. It had been one of the biggest and earliest in the area, and the last one to close in Buckley. The last chimney in Buckley was demolished at Lane End Brickworks on the morning of Friday 26th November 2004. It marked the end of a 250-year era for the town.
Although the location of the works stayed the same there was more prestige in using the name of the nearby town of Hawarden. This was because of its connections with the Gladstone family.
Again a Buckley brick but this time pretending to be from Chester!
This was one of a number of special ones made over the years and commemorates the Queen's Silver Jubilee.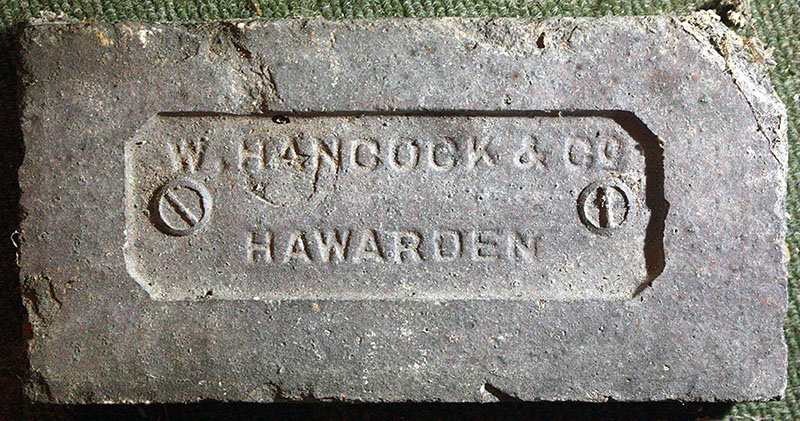 This one is a paver.


Found in Widnes by Frank Lawson.





Photographed at Parc Glynllifon, Gwynedd.

---
Parry's Ewloe Wood Brickworks
One of the town's most important brickworks, operating from 1860 until the late 1960's. Their most famous products were dark blue paving bricks. Castle Firebrick Co. acquired the works in 1944 and turned production over to refractory bricks for cement kilns.

---
South Buckley Colliery & Brickworks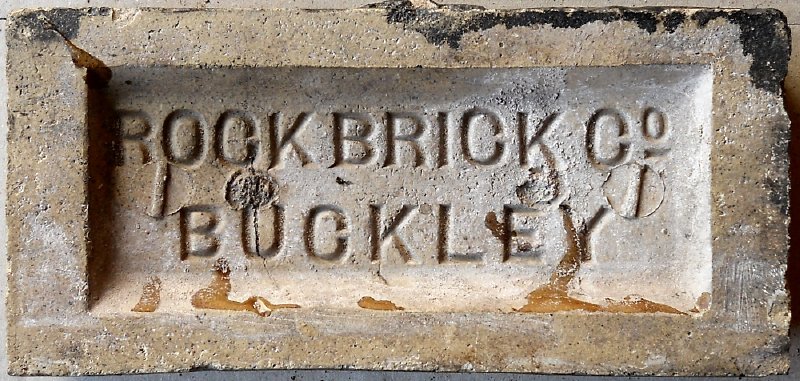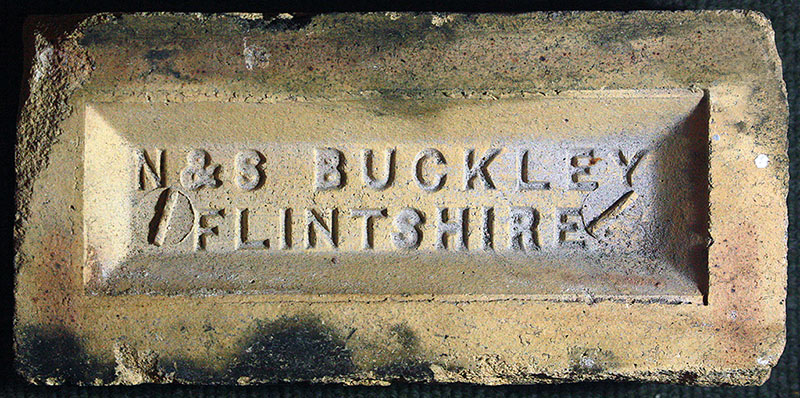 North & South Buckley Colliery, Brick & Tile Co Ltd.
One of Buckley's largest works, it began life as a colliery. Amalgamation with a nearby brickworks saw its name change to the North & South Buckley Colliery, Brick & Tile Co. They were responsible for the production of the famous Rock brand. Closure came in 1914.
---
Standard Brickworks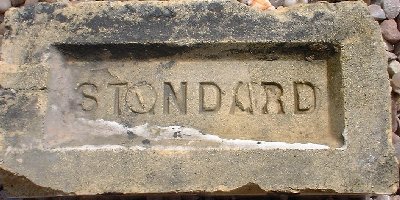 Originally opened by John Bates Gregory and associated with his nearby Mount Pleasant Colliery. It became the Standard Buff & Glazed Brick Co. specialising in hard cream coloured facing bricks. It ended its life making ceramic pipes and closed in 1969.
---