"Old Bricks - history at your feet"
England - page 12, Letter: J.
---
J & A J: J & A Jackson

J & B H: J & B Harrison
J B : James Brown

J C: John Chambers
J E D: John Evelyn Denison

J G & S: John Garland & Sons
J H G: Gosling

J H S: J H Shepherd

J J A: Joberns, Aldridge

J & J A H: J Haigh

J L: Joseph Longley

J M & S: Joseph Morton & Sons
J R: Jacob Reynolds, St. Albans
J R: Joseph Roberts

J R & Co: Rogers & Co, Wheal Remfry

J S & S: John Sadler

J T H: Joseph Towler, Holbeck
J W: James Womersby

J W: John Walker

J & W: Johnson & Wroe
---
Jabez Thompson, Northwich
Photographed at the Lion Salt Works museum in Northwich, Cheshire.
Photographed by Gwyn in the ruins of Penrhyn Quarry hospital.

Info about this brick can be read at this link & photographed at the Lion Salt Works, Northwich by Martyn Fretwell.
http://lionsaltworks.westcheshiremuseums.co.uk/wp-content/uploads/sites/4/2014/11/Autumn-1999.pdf
Brickmaking in Northwich by Colin Edmondson
I have found out a bit about brickmaking on the River Weaver in the 1790's by way of the Labourer's wage sheets, which list the jobs done during the construction of a lock, Hunt's lock, in Northwich.
They initially brought brick to the site from their own brickworks, but once the excavation was underway and producing clay they made them on site. Tasks noted include excavating, levelling for brick, wheeling clay to brick, casting clay, wheeling brick to kiln, unloading coal, carting clods from the forest, wheeling casing, tending the bank (overnight). These seem to tell the tale of a clamp type kiln, possibly used to dry as well as fire the bricks, comments welcome.
They also unloaded limestone and broke it, built a kiln, fetched straw, cut thatch, sessed straw, thatched lime shelter, running lime. So they also made the lime for the mortar on site. A brick built lime kiln still stands near to my home.
There is a bit about Jabez Thompson's on the Lion Salt Works site, as they were owners of salt works as well. It is now the site of the ALDI store. The area of the clay pit disappeared underwater as a result of subsidence caused by uncontrolled brine pumping, I have recently written several booklets about the area and its salt mining past. The flashes were then used for tipping dredgings and later chemical waste, later still within bund walls, followed by use a the town tip, and have now been capped and landscaped and are known as Carey Park.
---
J & A J (Jackson)
J & A Jackson Ltd was formed through the amalgamation of the businesses of two established brickmaking familes in the Manchester area. The Harrisons had four works around Stockport, whilst the Jacksons operated from three works in Chorlton, Longsight, and Levenshulme. Over the next fifty years the company expanded with the acquisition of works across the north-west and into the west midlands. In 1973 Christian Salvesen acquired the business and in 1995 a management buyout of the brick side of the business saw the formation of Chelwood Brick. Photo and information by David Kitching. Links to history: http://manchesterhistory.net/LONGSIGHT/INDUSTRY/Jacksons.html and http://www.pittdixon.go-plus.net/jacksons-brickworks/jacksons-brickworks.htm

---
J B & S Somercotes
John Bakewell, Birchwood, Somercotes, Whites Directory 1857. Spotted in Riddings, Derbyshire. Info & photo by Martyn Fretwell.
---
J C S & Co.


Photo by David Kitching, part of the collection at Wheal Martyn China Clay Museum.
---
J D & Co
The J has been impressed upside down on this one
---
J S & S, Oldbury
Photo by Alwyn Sparrow
---
J T G
James Thomas, Gerrans - Methers Collyn SW874367. Photo by David Kitching, part of the collection at
Wheal Martyn China Clay Museum
.
---
Jackson, Leicester
Photographed at Cadeby Reclamation yard
. Jackson & Co. Ashby Road, Hinckley are listed in Kelly's 1899 & 1900 editions.
Photo & Info by Martyn Fretwell.
---
Jacob Reynolds, St. Albans
Made by Jacob Reynolds on Bernards Heath. Thanks to Chris Reynolds for the photo and info.
---
Jacobean

A modern brick produced by Ibstock, photo by Alan Murray-Rust.
---
J James, B'ham

Photo by courtesy of the Harold Hands collection.
Photographed at the Chasewater Railway.
---
Jameson & Richley
Jameson & Richley, Corbridge, est. 1871, became J. Jameson & Sons in 1884 (see below). Photo and info by courtesy of the Frank Lawson collection.
---
Jameson & Son
J. Jameson and Son Ltd. of Corbridge adopted this name in 1884 having previously traded as Jameson & Richley (see above). The abundance of clay around the Corbridge area facilitated the growth of the Company so that by the 1960's it was the largest employer in the town with a workforce of approximately fifty people. By the late 1970's a combination of factors - the recession and technological developments by much larger competitors - resulted in the firm being forced into liquidation. Photo and info by courtesy of the Frank Lawson collection.
---
W Janner, Whittlesea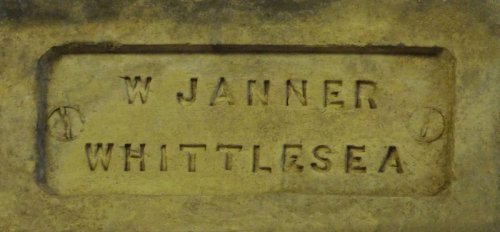 William Janner is listed in Kelly's 1879 edition at Scaldgate, Whittlesey & at St. Mary's Street, Whittlesey in Kelly's 1883 edition. Info & photo by Martyn Fretwell, courtesy of the Bill Richardson Collection.
---
Jarvis, Clare
Patent Fixing
William George Jarvis is listed in Kelly's 1892 to 1916 editions at Cavendish Road, Clare, Suffolk. Photo & Info by Martyn Fretwell.
---
Jayess
John Slater, Berry Hill Collieries, used the Jayess mark for some of the bricks
produced at the Berry Hill brickworks. Photo and information by David Kitching.
---
Jefferies, Stonehouse / Stroud

Spotted by Maurice Stokes in Tewkesbury.
Samuel Jefferies owned three brickworks near Stonehouse, Gloucestershire. Two were located off Ebley Road, Stonehouse, situated either side of the Great Western Railway line. The Imperial Brickworks was on the north side of the railway - Grid Ref. SO816049 & was in production between 1899 & 1950's & the Atlas Brickworks - Grid Ref. SO817048 was on the south side & had been opened in 1860 with Jefferies recorded as owning it in 1911. The third brickworks was on Dudbridge Road, Dudbridge, Stroud - Grid Ref. SO839044. This works was disused by 1924. I have Kellys trade directories from 1897 to 1914 which list Jefferies & Sons at Haywards Field, Stonehouse & Dudbridge, Stroud. Photo & Info by Martyn Fretwell.
---
Jelliffe
Thomas Jelliffe of Erdington is recorded in a list of Birmingham Brickmasters. Then from another reference Thomas Jelliffe is recorded as a coal merchant and brickmaker, working on Garrison Street. William Mansfield of the Atlas Patent Brick & Quarry Co. Garrison Street then takes over Jelliffe's yard in 1861 & operates both yard together. Info & Photographed at Four Oaks Reclamation Yard by Martyn Fretwell.
Jelliffe's Patent. Photo by Martyn Fretwell courtesy of the John Baylis Collection.
---
G Jennings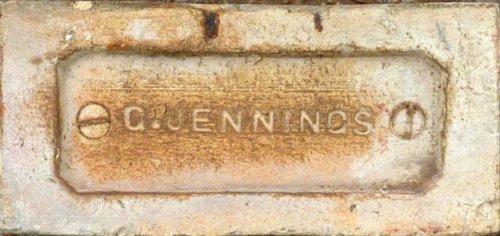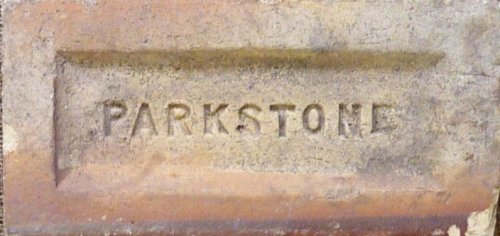 London drainage engineer George Jennings who had originated from Hampshire took out a lease from the Canford Estate in 1856 and opened the South Western Pottery & Brickworks at Parkstone, Poole. First producing pottery goods he then moved on to produce a wide range of bricks, stoneware drainage pipes & terracotta blocks which he transported the three miles by horse & cart to Poole Quay and thence by ship to his own wharf on the Thames at Lambeth. By 1867 George had completed his own pier at Salterns, Poole which was only three quarters of a mile from his Works, he then used this to transport his goods out and to bring coal in. George died in April 1882 with his works continuing under the Jennings name. In 1919 H. Wragg is recorded as Managing Director. The works finally closed in 1967. Photos & Info by Martyn Fretwell.
---
J Jennings, Rowley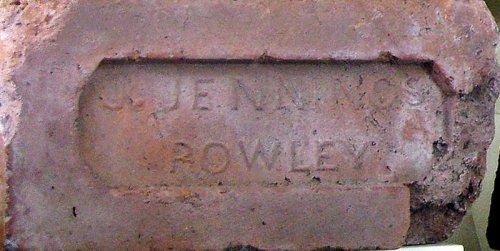 I have found a listing in Kelly's 1860 edition for Jennings & Hornsby at The Knowle, Rowley Regis, Dudley which I think is the J. Jennings on this brick. Info by Martyn Fretwell & Photo by Keith Hodgkins.
---
Jericho see Taylor's Jericho, Bury
---
Jewson
Fredrick Jewson is listed in Kelly's Cambridge 1892, 96 & 1904 editions as brickmaker in Haddenham, Cambs. Fredrick's works was on Sutton Road in Haddenham on land leased from John Henry Porter who was also a brickmaker. (See Haddenham entry). George Jewson (Fredrick may have been George's son) in 1836 at Earith established a business trading goods all round Huntingdonshire & the Fens. Today we know this company as Jewson's Builders Merchants. Going back to Fredrick & in the Brick & Tile Merchants section of Kelly's Huntingdon 1898 edition there is the entry of Jewson & Sons, Earith, St. Ives. The 1910 entry is Fredrick Jewson, Earith & then the 1914 entry is Fredrick Jewson (exors of). So as well as being a brickmaker in Haddenham, Fredrick ran the family's brick & tile merchants yard in Earith & made the F. Jewson, Earith, Hunts brick in this entry at his Haddenham works. Info & Photo by Martyn Fretwell.
---
Jeynes Patent
Made by William Jeynes, Oldbury Works, Upper Lode, Tewksbury, Gloucs. - found by David Ashford in Worcester. Wm Jeynes appears in the 1897 Kelly's Directory for Gloucestershire.



Photo by Martyn Fretwell.

---
Joberns, Aldridge
Joseph Joberns & Co is listed as operating the Aldridge blue tile works from at least the early 1880s and in 1940 had become Joberns Ltd. The works was also known as Coppice Lane Tileries, Walsall Wood. Photo and information by David Kitching.



Photographed at Derby Silk Mill Museum by Martyn Fretwell.




Photographed at Cawarden Reclamation Yard by Martyn Fretwell.

---
John Chambers
Salvaged from a Victorian house at Green Hammerton, so a possible maker could be John Chambers, Littlethorpe, Ripon or his successor Mrs J Chambers & sons, listed in trade directories 1867 - 1881, info and image PRBCO
---
John Garland & sons

Found in a park near Bramhope, Leeds by Mark Harriman. Made by John Garland & Son, Cherry Row, Leeds, listed in White's directories of 1861 and 1870 - a date compatible with the style of lettering. Thanks to Phillip Rothery for the history.
---
John Walker
Not to be confused with the J W bricks found around Leeds - Jabez Woolley - this brick J W with wide, bold initials, was most likely made by John Walker and John Walker (exors of) at Linthwaite, Huddersfield, listed in Kelly, West Riding, 1881 to 1912. Found near Milnsbridge, with other identical examples seen at Farnley Tyas and Deighton - all in the Huddersfield area. Info and image PRBCO.
---
Johnson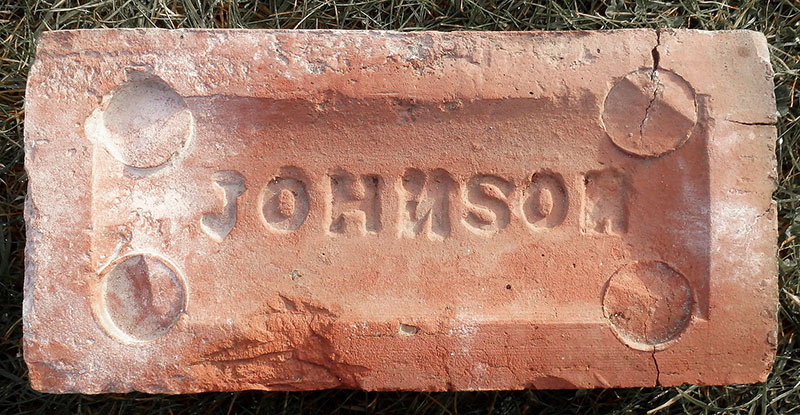 William Johnson, Bentley Road, Doncaster. Slater's West Riding Directory, 1887. Photo and info by Frank Lawson.
---
E Johnson, Hindley Green

Found on the seashore at Crosby, Merseyside. E. Johnson owned Swan Lane Colliery, Hindley Green, Wigan.
Photos by Frank Hilton.
---
Johnson, Andrews & Co.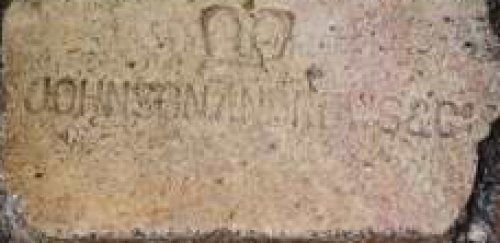 Found on the site of Brandy Bottom Colliery, Bristol. Johnson and Andrews had a partnership at Crew's Hole, Gloucestershire in the 1870's. Photo and info by Phil Jenkins.
---
Johnson & Maw
---
Johnson & Wroe
Found in a garden in Leeds, photo by Steve Kind. On this one the J is back to front. Derek Barker thinks the most likely maker is Johnson & Wroe of Queens Road and Elland Road, Leeds.
Thanks to Darren Haywood for the photo.
---
Joicey, West Pelton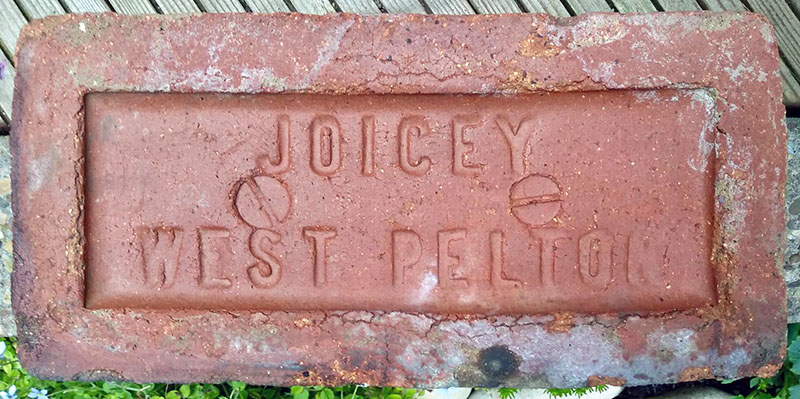 Produced for Joicey Colliery Company at Grange Villa pit, thanks to Mark Davinson for the info.




Photo by Mark Cranston.

---
E Jones, Dudley Port


Found in Wednesbury by Steve Thorpe.

---
J Jones, Dockers Lane, Kenilworth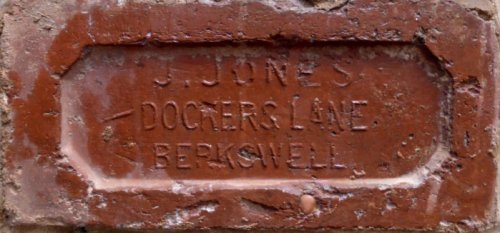 James Jones is listed in Kellys 1868 edition at Berkswell, Coventry & at Leamington, then the 1872 edition just reads Berkswell. Info & Photo by Martyn Fretwell courtesy of the John Baylis Collection.

---
W. Jones
A brick made at William Jones' Springfield Tileries, Trent Vale.  Jones is only listed between 1865 and 1870.  He does not appear in the 1873-74 trade directory.  Photo and information by David Kitching.
---
Jones & Maxwell, Pelaw
David Oliver writes: Jones and Maxwell established the Pelaw Terra Cotta Works in 1895 just to the west of Monkton Coke works in what is now South Tyneside. By 1911 Jones Brothers owned the yard and developed it into the largest manufacturer of engineering and facing bricks in the North East. It closed in 1968 This information is from 'Brickworks of the North East by Peter J. Davison
---
Jordan, Winshill


Richard Jordan, Steam Brickworks, Winshill, Burton on Trent. Found in Stanton, Swadlincote, Derbys. Photo and info by Frank Lawson.

---
Joseph Brooke
This famous company owned several quarries, including one in Scandinavia, a mine and a brick-works, in the 1840s. Joseph Brooke died in 1876 and his sons took over the business. They were certainly making bricks and firebricks by the end of the century. In the 20th century the company was known as Brooke Ltd and in 1910 many local authorities used their 'Silex' stone non-slip flags. The business later declined and closed in the 1960s. The firm constructed Brookeville, Hipperholme in 1911 using their products. Thanks to Derek Barker for the information.
photo by Darrell Prest
Found in Halifax by Simon Patterson.
photo by Darrell Prest.
Photos by courtesy of the Frank Lawson collection, found at Clayworth, Notts.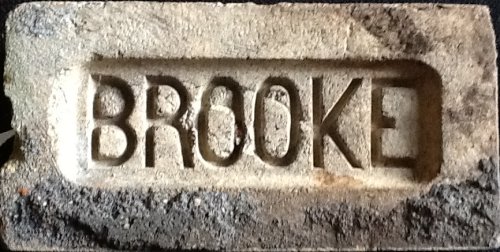 Front and back of Joseph Brooke brick by Robert G Farmer

This brick was found at Baildon, West Yorkshire. Brookes (Hx) were owners of the Yorkshire Canister Co. on Green Road, Baildon between 1901 & 1908. Brookes also manufactured white glazed bricks at their Hipperholme site, near Halifax, so it is open to conjecture as to where this ordinary red building brick was made. Image PRBCO.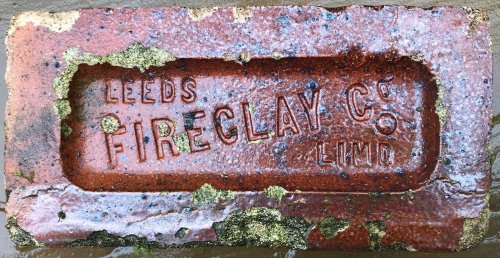 Found at Tockwith airfield in North Yorkshire by Sue Wright.
---
Joseph Morton & Sons
Found in a garden in Leeds, photo by Steve Kind. Darrell Prest writes that this came from Joseph Morton and Son who had brickworks in Siddal, Halifax, off Cinderhills Lane. An alternative theory is supplied by Phillip Rothery who writes: J M & S - seen around Leeds, so possibly John Matthew & Son , Ingram Road / Shafton Lane, Holbeck, Leeds . In Kelly 1900 to 1916. After which the site appears to have been owned by A N Braithwaite & Co ( A N B & Co ).
---
Joseph Towler, Holbeck
Found at Hart Hill, Gildersome may have been made by Joseph Towler, Holbeck, Leeds listed in trade directories around 1870, info and image PRBCO
---
Jubilee


Found by Martyn Fretwell in an old school in Kirkby in Ashfield, Notts, it is a paving brick.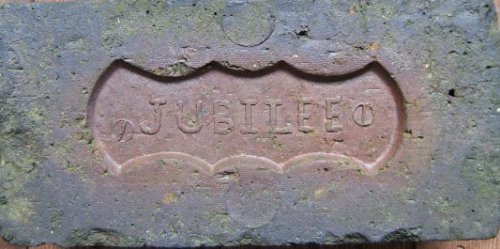 Photo by courtesy of the Richard Symonds collection.

Found near Derby, photo by courtesy of the Frank Lawson collection.

Photo by Ray Martin
Judging by the age of the houses from the garden wall of which this brick came, it commemorates the 1887 Golden Jubilee of Queen Victoria. Seen in Wolverhampton but the makers could have been anywhere in the
West Midlands. Photo and info by David Kitching.
Martyn Fretwell writes ;- Found in Kelly's Staffs. Directories that the Jubilee Brick, Lime & Sand Co. is listed at Moxley, Wednesbury in it's 1900, 04 & 08 editions & could well be the maker of some of these bricks shown. However Jubilee stamped in the H frog, suggests Hamblet to me.
It is also possible that some of the above came from different works.
---