"Old Bricks - history at your feet"
England - page 14, Letter L.
Li to Lu
---
L. P. Ardwick
Photo by David Kitching.
---
Ladle
Photo by Ray Martin

---
H Lakin, Stapenhill
Henry Lakin is recorded as brickmaker in Kelly's 1857 Trade Directory at Stapenhill near Burton on Trent. Info & Photo by Martyn Fretwell.
---
Lamb (& Co?) Manchester
James Lamb is listed at Travis St goods yard in the 1883 and 1886 editions of Slater's Manchester directory.
---
T & R Lamb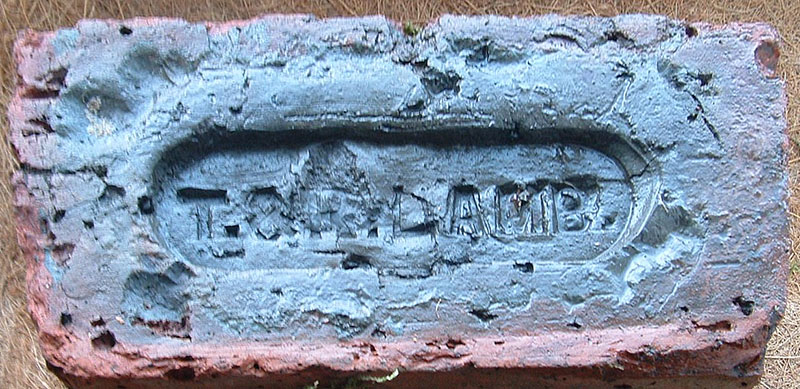 Although I've been unable to locate the actual brickworks, the company appears in local directories in the early 1880's, with an address in Grahamsley Street in the Bensham area of Gateshead. Immediately behind this location there were extensive Sandstone Quarries, so possibly some brickmaking activity took place in the vicinity too. Photo and info by Arthur Brickman.
---
Lambert, Pott Shrigley, Macclesfield
In c1820 George Lambert and Abraham Bury started a small brickworks near Brink Farm with one kiln to fire the bricks. When they needed to expand they moved to the site in Bakestonedale.By 1848 George Lambert was operating a coal and fireclay mine with associated Pott Brickworks on the south side of the road at Bakestonedale, Pott Shrigley. Lambert was still working the Pott Shrigley coal mine in 1884 but had relinquished the firebrick works to James Hall before 1878. By 1896 all had been absorbed into the business of William Hammond on the north side of the road. Photos and information by David Kitching.
---
Lambton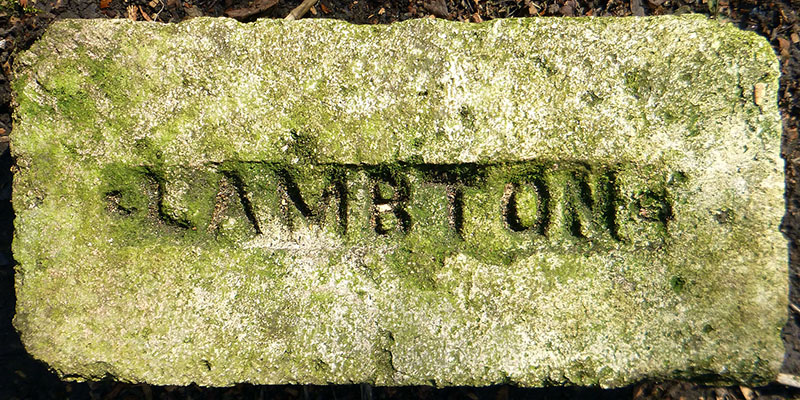 All probably made by the Lambton & Hetton Collieries Ltd in County Durham.
Possibly made at Lambton D pit, Fencehouses, Houghton le Spring, which operated between1894 and 1960. Info P J Davison, Brick & Tile Works, north east England (c1970), image PRBCO.
Photo by Martyn Fretwell.
---
Lancashire Brick Co.
Lancashire Brick & Tile Co. Baxenden, Accrington, in operation 1893 - 1904. Photo and info by Colin Driver.

---
Lancaster, Brimington
Photo by courtesy of the Frank Lawson collection, found at Barlow near Chesterfield. From the works of S. M. Lancaster, Brimington, Chesterfield (Kelly's Directory of Derbyshire 1899).

Photo by Martyn Fretwell.

---
Lanchester
A small town in County Durham.
---
Lane Bros. Mansfield.
The Hermitage Brickworks was owned by brothers, Richard and Sampson Clay Lane. The Works occupied land on the right hand side of Hermitage Lane, from it's junction with Sutton Road down to the railway line and was in operation in the early 1900's. Photo & Info by Martyn Fretwell
Thanks to Darren Haywood for the contribution.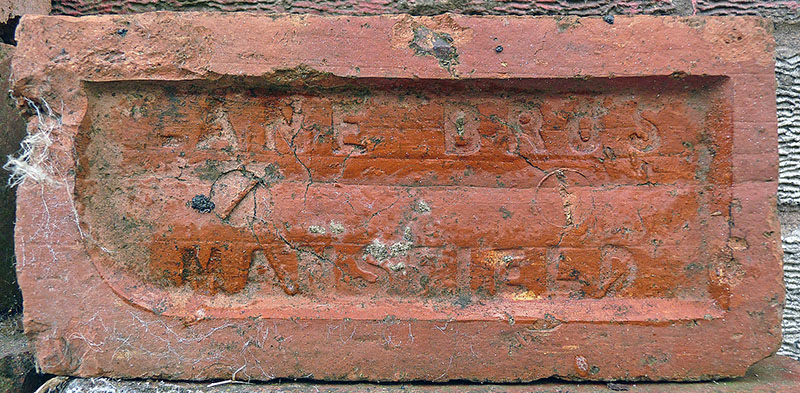 Thanks to Darren Haywood for the photo.
---
Lane End Works: see Fenton entry
---
John Langley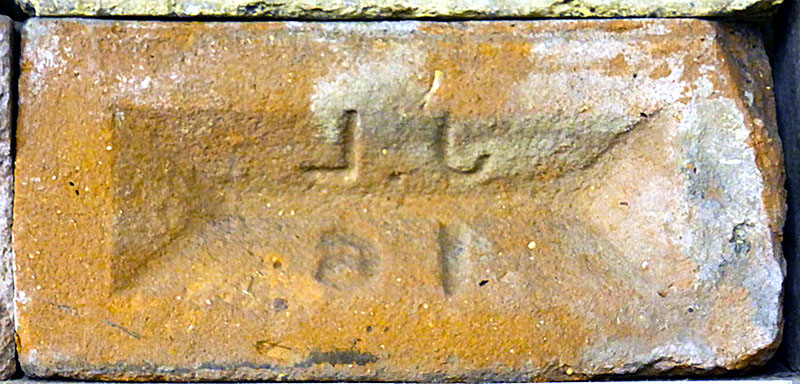 John William Langley is listed with two brickworks at Sutterton& Kirton, Lincs. in Kelly's 1892 to 1905 editions. Then the listing is John Langley & Son Ltd. at Kirton & Sutterton in Kelly's 1909 to 1919 editions. The Langley's were also builders& contractors, designing & supplying conservatories, green houses & all types of horticultural buildings from Kirton. Photo & Info by Martyn Fretwell.
---
Langley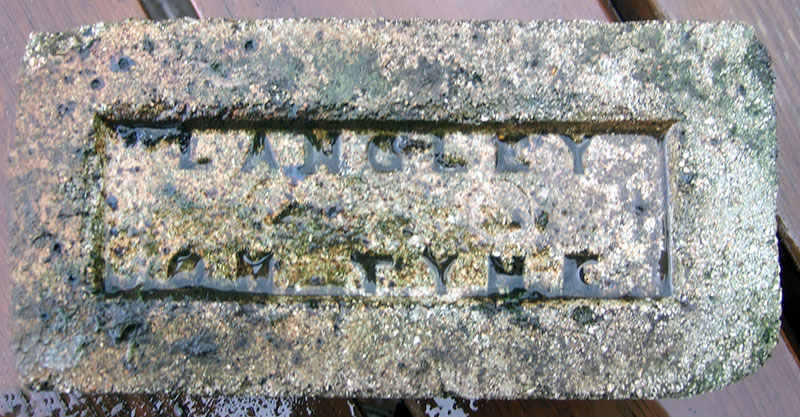 Bricks from Langley Barony Fireclay Company, they produced firebricks under the name of Langley Barony Silica Brick Co. allong with some white enamelled bricks. the works became more famous for its production of white glazed sanitary ware, including closets, wash hand basins and pedestals, mens urinals and sinks, marketed under the trade name BARONITE. The yard had 9 downdraught kilns. Photo and info by Solway Past.

---
Langworthy Red Brick Co.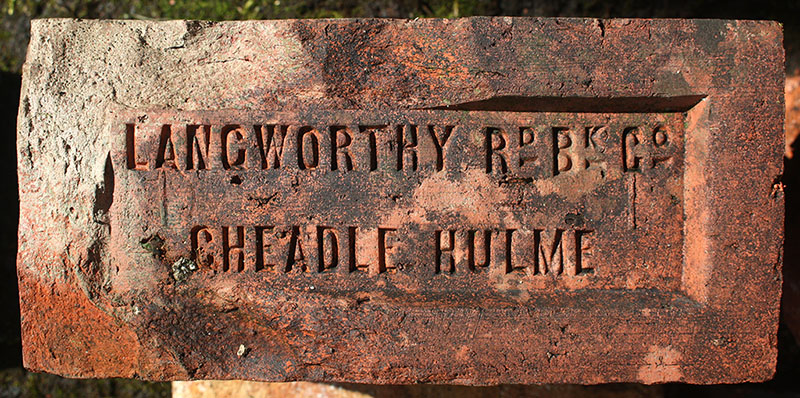 The Langworthy Road brick & Tile Company Ltd was on Ladybridge Road, Adswood, Stockport. It appears in trade directories for 1898 and 1901.
---
Lapal Tunnel Brick Co.
Photo by courtesy of Bristol and Region Archaeological Services. Unearthed during during groundworks associated with the construction of a new food store at Barnes Hill, California, Birmingham. Martyn Fretwell writes; The Lapel Tunnel Brick Co. California, Birmingham was started in 1876/7 and in 1882 when it became a limited company, the principal shareholder was John Garlick who owned another brickworks at Upper Saltley. With John going bankrupt two years later in 1884, both his brickworks were closed.
Photo by Martyn Fretwell.
---
William James Larner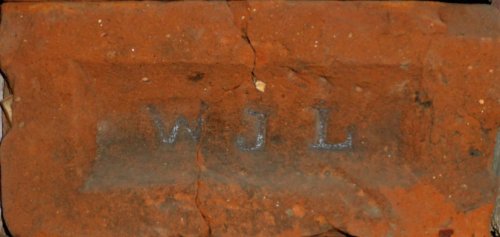 William James Larner is listed in Whites 1883 edition at Commercial Road, Dereham, Norfolk (home address) then at Crown Point (works), East Dereham in Kellys 1892, 96 & 1904 editions. Dereham is also known as East Dereham. Photo & Info by Martyn Fretwell./p>
---
Lathom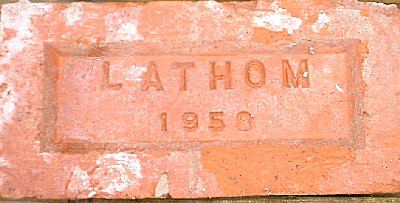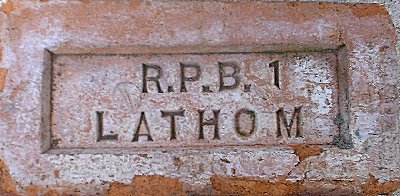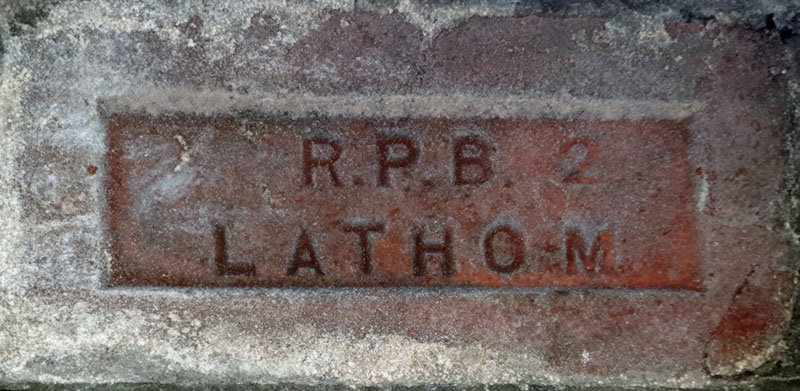 Photo by Terri Gallagher.
Photo by Mark Annand.
Lathom is near Ormskirk in West Lancashire and was a major brickmaking centre until recently. The middle example was made in 1958 and came from Brymbo Steelworks near Wrexham during demolition. R. P. B is Ralph Platt Barker, the brickworks was on the site of the former Blaguegate Colliery.
Rhys writes: I worked for Lathom Brick Company in the 1960's and i noticed you had a pressed Engineering brick that has the initials of R. P. B. on it. They stood for Ronald Peter Barker who owned Lathom Brick Company. They stopped making pressed bricks in the mid 1960's and went to making wirecut bricks until it closed in 1975.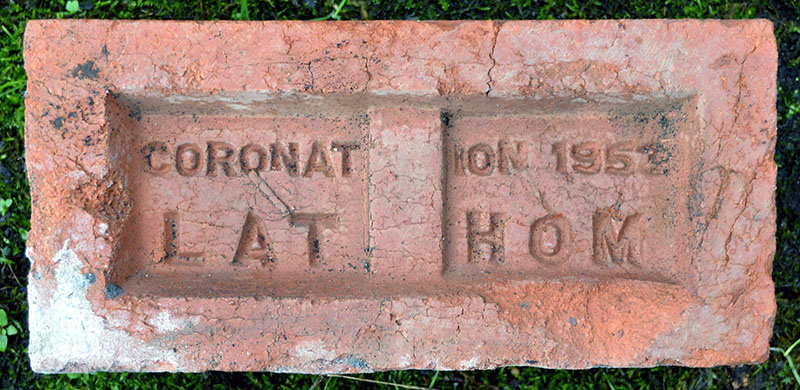 Coronation 1953. Photo by courtesy of the Colin Driver collection.

---
Lauder & Smith, Barnstaple
Alexander Lauder and his Brother in law, W.O. Smith, set up a business at Pottington Barnstaple making pottery, bricks, and tiles in 1877 and changed the name in 1890, it closed in about 1914. Photo and info by Brian Sweet.

---
Lavington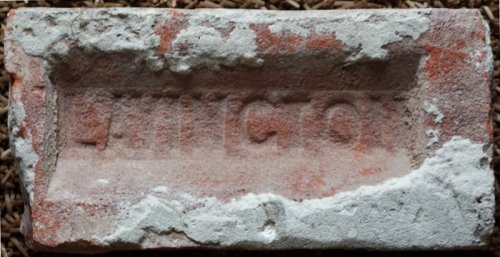 This brick was made during the early 20th century when the Holloway Brothers owned Market Lavington brickworks. The works closed during WW2. Info & photo by Rog.
---
Law & Co
Abraham Law, produced pressed & clamp bricks at his yards at Brightside Lane, Sheffield & Holmes near Rotherham, with his offices at Lady Bridge Sheffield in 1860's / 70's. He lived on Brocco Bank in Sheffield & owned 34 leasehold houses & 30 acres of land on Brightside Lane. Photo & Info by Martyn Fretwell.
---
D & G Law
<

David & George Law, Intack Colliery, Brandwood Moor, Rossendale. It was situated just off Rooley Moor Road overlooking Cowpe Reservoir. Very poor quality brick possibly clamp made. The works was in operation in 1876 but probably not for long. Photo and info by Colin Driver.

---
J B Lawes
Made at the Hollygrove Brick and Tile works in Jackfield near Broseley some time between 1867 and 1876 when it was being run by John Bennett Lawes of Harpenden, who developed one of the first chemical fertilisers. According to John Randall the Victorian Local Historian the works existed in 1684. It closed some time in the early 20th century. Photo and info by Steve Dewhirst.

---
J. Lawrence
Spotted in Riddings, Derbyshire by Martyn Fretwell.
---
Thomas Lawrence, Bracknell
Found during landscaping work at the Carnegie Heritage Centre, Kingston upon Hull. Bracknell in Berkshire was once well known for its hand-made brick production, and the longest lived of the old brick firms, Thomas Lawrence of Bracknell (or TLB for short) started off at the foot of Wick Hill. The brown clay to be found in this area was ideal for making rich warm red-fired bricks, some of which were used in the construction of Westminster Cathedral! Thanks to Alan Brigham for the contribution. Also see the entry for W. K. (Wokingham).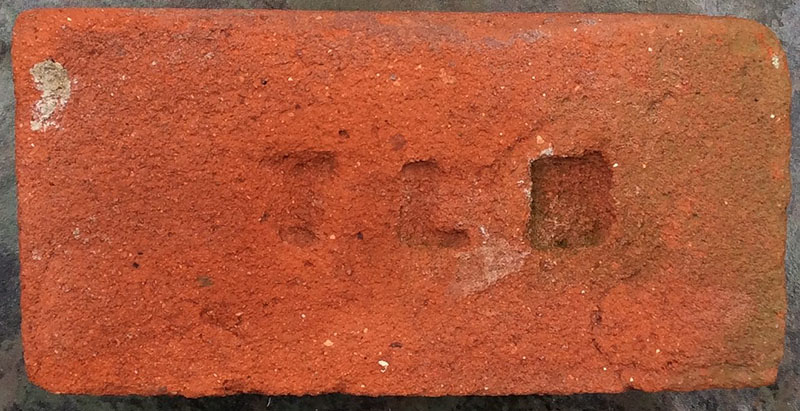 Photo by Simon Fogg. Found in Exmouth, Devon.
---
Law & Sons, West Melton
Photo by courtesy of the Frank Lawson collection.

---
Lawson Bros. South Shields
Front and back of another Lawson brick, sent by Stewart Whitelaw.
Lawson Brothers, South Shields, Co. Durham. Kelly's Durham Directory 1914:-
George Lawson Jnr., Mile End Road, South Shields. Info by courtesy of Frank Lawson.

---
Laycock & Grace
Found at Hainworth, Keighley. This would have been made by Laycock & Green, Highfield, Keighley and listed in Kelly, 1871. Info and image PRBCO
---
W. Lea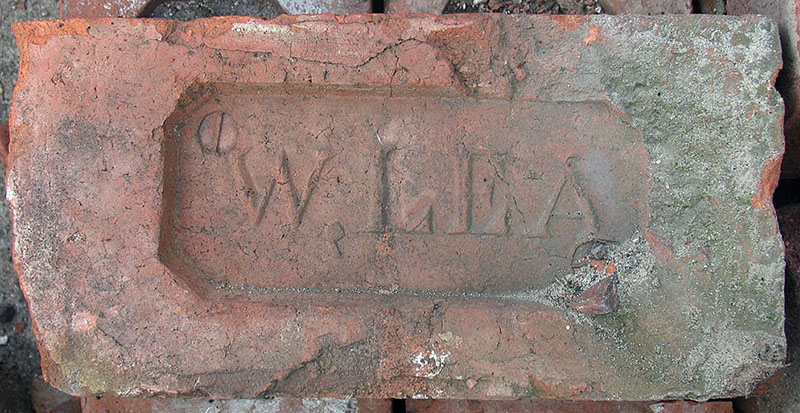 William Lea, Audley Road, Chesterton, Newcastle under Lyme. The works lasted from 1865 until 1879 when the yard was put up for sale but seems to have found no buyers. In 1868 William Lea is listed in the trade directory as brickmaker and manufacturer of ridge, roof & floor  tiles etc. & builder. Photo and information by David Kitching.
---
J & R Leah
Collyhurst, Manchester. This works is listed in the 1895 Slater's Directory at Collyhurst Road and again in 1903 as J & R Leah, red pressed engineering and common brickmakers, Collyhurst Road and Fitzgeorge Street. They are listed again in 1909 at the latter address only but not in 1911. Photo and information by David Kitching.
---
Leamington
Simon Patterson photographed this one at Avoncroft Museum
---
Leamington & Lillington Brickyard Co.
Photo by Alwyn Sparrow.
Kellys records The Leamington & Lillington Brickyard Co. Ltd. Lillington Road, Leamington in it's 1884 edition with Thomas Mills as Managing Director. 1888 edition lists Thomas Southorn as M.D. Then 1892 edition lists Arthur T. Elkington as Secretary followed by later editions as Manager. From 1900 to 1940 editions (1940 last available directory) the works address is given as Campion Road. This was a new road built off Lillington Road to access the works. After the brickworks had closed & been demolished, houses were built in the 1960/70's & the filled in clay pit was grassed & planted with trees creating an open green space. Photo and info by Martyn Fretwell courtesy of the John Baylis Collection.

---
H Leamon, Greet, Birmingham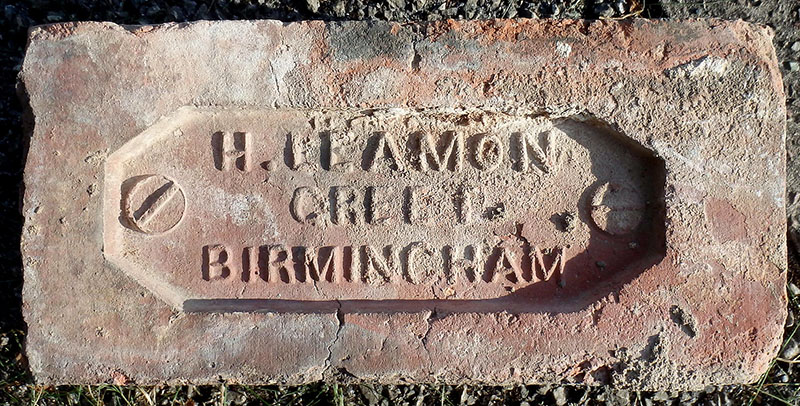 Info at this link. Photo courtesy of the John Baylis Collection by Martyn Fretwell.

---
Leamore
Located in Leamore Lane, Walsall.1.5 miles NW of Walsall centre. Leamore Brick Co., Green Lane, Birchills, Walsall, a 6.5 acres brickworks site adjacent to Wyrley & Essington Canal. Photo and info by Ray Martin.
Found in Derby by Frank Lawson

---
Leasingthorne
Leasingthorne Colliery Brickworks, Leasingthorne, Bishop Auckland, Co.Durham. Seggar from Leasingthorne Colliery was used for brickmaking at the site until 1960. The Colliery opened in 1836 and closed in 1965. By 1968, and as a result of the closure of the Colliery, the majority of houses in Leasingthorne had been demolished, they were followed by the chapel and school in the early 1970's. Stone Row survived until 1976 and by 2003 only Eden Terrace remained. Photo and info by courtesy of the Frank Lawson collection.

---
Lee
Found in N. E. Derbyshire by Simon Patterson.
---
J Lee, Mosbro
Thanks to Darren Haywood for the photo.
Found on the site of the demolished Lord Conyers pub in a village called Wales near Rotherham. Made by J Lee, Station Road, Mosborough, Nr.Sheffield. Photo by Frank Lawson.

---
W. Lee, Barrow
Walton Lee made bricks c1880 - c1890s in Barrow-in-Furness, Cumbria. Angus Glasgow. Image PRBCO.
---
Leebotwood Brickworks
The brickworks at Leebotwood, Shropshire was next to the colliery and is shown on an 1883 map, but was closed by 1902 as it is not shown on the map for that year. Info & Photo by Martyn Fretwell courtesy of Shropshire Museums.

---
Leeds
Found in a garden in Leeds, photo by Steve Kind, quite likely made by the company below.
---
Leeds Brickmaking Co.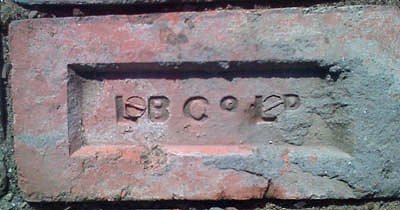 Found in a garden in Leeds, photo by Steve Kind. John Pease thinks this one could have been made by the Leeds Brickmaking Co of Armley. Phillip Rothery confirms this; it is list in trade directories between 1875 and 1909, firstly at Armley Road and latterly at Dolly Lane.
---
Leeds Fireclay Co.Ltd.
Leeds Fireclay company incorporated Cliff, Ingham, Wortley Fireclay, Oates & Green (Halifax), Edward Brooke (Huddersfield) and Burmantoft works.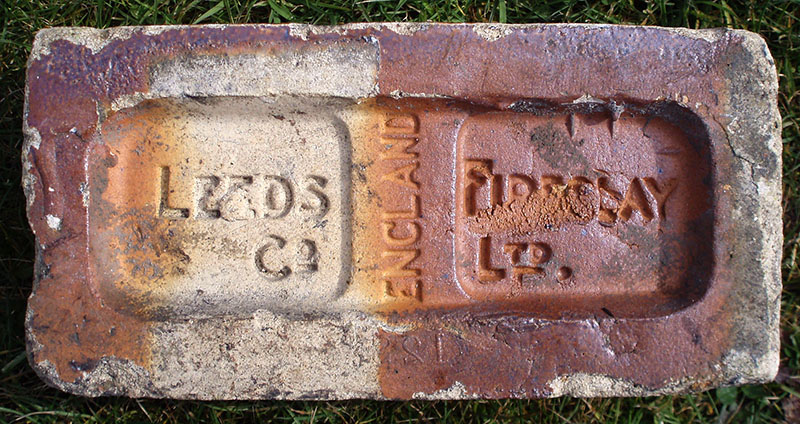 Found in a garden in Leeds, photo by Steve Kind
Photo by courtesy of the Frank Lawson collection.
Alan Dunn took this photo of the back of a Leeds Fireclay brick in St. Albans.
Found near London Zoo by Vladimir Smirnov.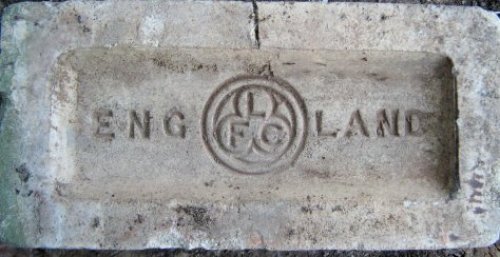 Photo by courtesy of the Richard Symonds collection.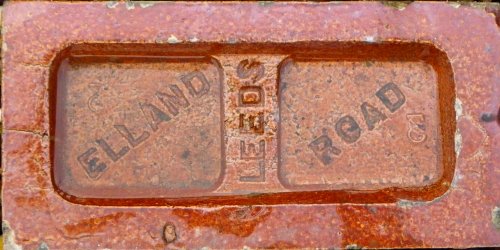 Photo by Malcolm Adlington
Reverse of LFC brick, photo by Alan Davies.
Photo by Andy Chaplin. Brick made after the takeover of the Burmantoft company.
Photo by Julie Parker. WFC refers to the Wortley Fireclay Co.
Seen in Riccall, N Yorks. L.F.C. A glazed face imperial brick. Photo by Ian Prest.
Found in Ilkeston by Alan Murray-Rust.
Found on an old refuse tip on Walney Island, photo by Richard Cornish.
B P C, Leeds Fire Clay Co, Field House, Huddersfield. A big voussoir special product by Leeds Fireclay Co Ltd. 12" x 12" x 8"/9", photo by Ian Suddaby.
Found in Leeds by Nigel Megson.

---
Leeds Patent
The Leeds Patent Brick Company operated in Leeds - Cross Stamford Street /Dolly Lane / Roseville Road - and was listed in trade directories, 1870 - 1956. After 1938, it was a branch of B. Whitaker and Sons (B W S), list in phone book for 1956 but not 1961. Image PRBCO.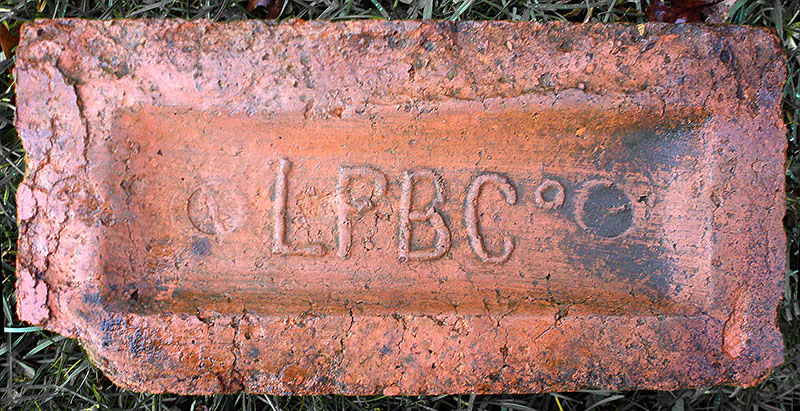 Photo by courtesy of the Frank Lawson collection, found near Bramhope, Leeds.
Image PRBCO.
---
Leeman & Thomas


Leeman & Thomas, Layerthorpe, York. York Directory 1846 - 1858. This brick was recovered from the cellar floor of a Victorian terraced house in York by Katie Keefe. Info by Frank Lawson.

---
Leigh & Son
John Leigh & Son ran their brickworks at High Lane, Burslem from the early1890s until at least 1916. They do not appear in the 1921 trade directory. Photo and information by David Kitching.
---
Leicester Patent Brick & Tile
The Leicester Patent Brick & Tile Co. is recorded in White's 1877 edition at Greyfriars & works at Humberstone with J.A. Bosworth as Managing Director. Followed by Kelly's 1881 edition at New Humberstone with T. Beech as Manager. Photos & Info by Martyn Fretwell.

---
Leverstock & Acorn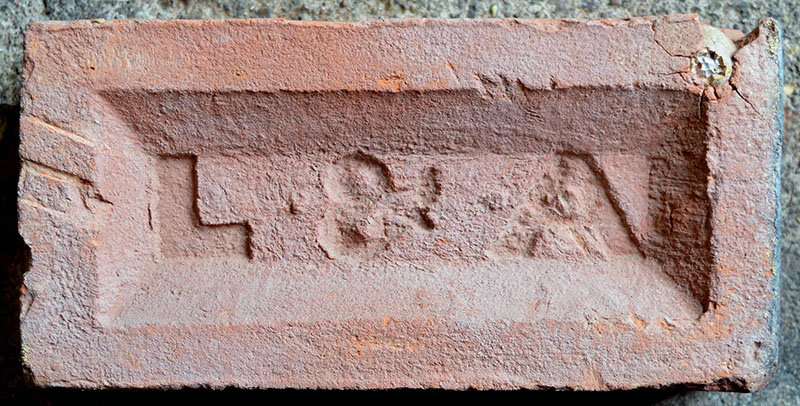 Leverstock and Acorn Red Brick Co. Hemel Hempstead. Photographed at a brick reclamation yard in Kent by Martyn Fretwell who writes: I have found a reference to a chimney stack repair in London Road, Apsley End, Hemel Hempstead in 1897, were it was found that the bricks used were stamped L & A and came from the Bennetts End brickfield. The company's Leverstock Green Works had been established by the Norris family in 1848, operating it under the Norris name. The family then set up the Acorn Works at nearby Bennetts End around 1897 & the company was re-named the Leverstock & Acorn Red Brick Co. The Leverstock Works had closed by 1902. The last recorded advertisement for L & A brickworks was in 1945. More about the company and brickmaking in Hemel Hempsted can be read here: http://bacchronicle.homestead.com/Brickmaking.html
Also see the entry for Norris, Hemel Hempstead

---
A Lewis, Percy Road
I have found out that Arthur Lewis owned the Burbury Brickworks which was on Percy Road, Greet, Yardley, Birmingham in Kelly's 1896, 97 & 1900 editions. Info & Photographed at the Black Country Living Museum by Martyn Fretwell.

---