"Old Bricks - history at your feet"
England - page 19, Letter R.
---
R. P. D. Hereford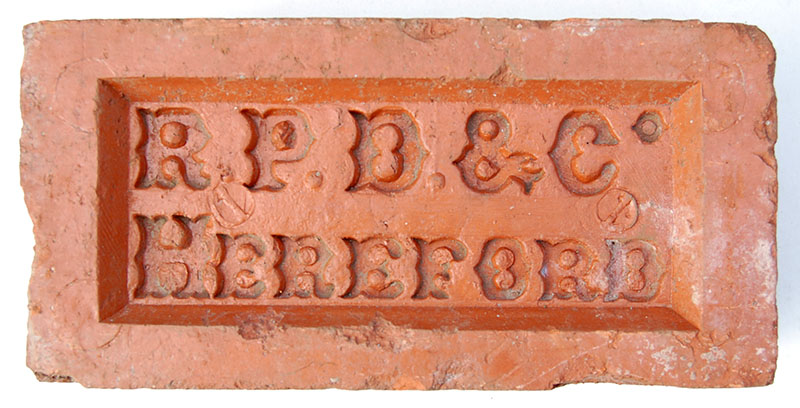 Image PRBCO. Richard Paterson writes: In their excellent book 'Herefordshire Bricks & Brickmakers' (Logaston Press, 2007), Edwin Davey and Rebecca Roseff identify Ralph, Preece, Davies & Co as owners of the Albert Brick & Tile Works at Holmer, Hereford. They quote an anonymous description, dated 1892, which states that the works had been 'established for about 50 years' and refer to another source which says that the demolition of the chimney stack was filmed in 1968 or 1969. Davey and Roseff suggest that, at one time, RPD may also have owned the Brickyard at Aylestone Hill, Hereford.
---
Radcliffe, Amble
The Radcliffe Coal Company was sited at Amble quayside, Northumberland 1875 - 1955 - P.J. Davison, Brick and tile works sites in North East England, c1970.



Photo by Mark Cranston

---
Radcliffe on Trent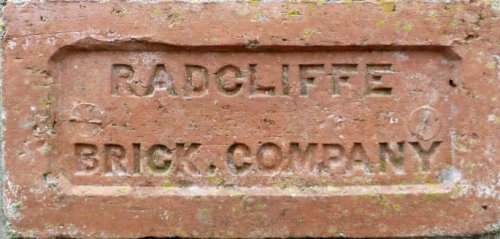 The Radcliffe on Trent Brick Co. is listed in Kellys 1881 to 1895 editions & is then followed by one more entry in 1928. OS maps reveal that the works was still operational between 1895 & 1928 & was situated just outside Radcliffe on Trent in the hamlet of Harlequin, with the works being accessed off Grantham Road. Kellys 1888 edition lists George John Willey, Simon Barratt & Henry Parr as joint proprietors. After several other brickmakers had leased the works off N.A. Norris (land owner) & operating the works under the Radcliffe on Trent Brick Company name, the works was then purchased by Joseph Onions in 1931, who again carried on using the company name. The 1950 OS map only shows the outline of the clay pit, so it is unknown how long the works remained operational under Onions. I suspect it was until the start of WW2. Photo & Info by Martyn Fretwell.

---
Rainbow
Rainbow was a trade name of Samuel Evers & Sons, Homer Hill works, Netherend Lane, Cradley, Halesowen, West Midlands. The red brick was made from colliery waste. The Company made Firebricks and Fireclay goods and the works closed around 1970. Photo by Michael Raybould.
---
James Rainer
James Frederick Rainer is listed in Kellys 1894 to 1922 editions at the Cheshunt Brick Fields, Prospect Road, Chesham, Waltham Cross, Herts. A second works at Enfield Highway is listed in Kellys 1899 to 1912 editions. Photo & Info by Martyn Fretwell.
---
Rainford
Rainford Brick & Tile Works, Rainford, St.Helens, Lancs. Slater's Directory 1895
---
Rake, Littleborough


Colin Driver writes: I recently found the above in Littleborough very near to the former Rake Inn at the bottom of Blackstone Edge Old Road. Further enquiries resulting in me finding a listing in MacDonald's 1879 Directory of the "RAKE FIRE BRICK COMPANY - Halifax Road,Littleborough.

---
Rake F B Co. Manchester
Ian Miller writes: This is a refractory brick manufactured by the Rake Fire Brick Co Ltd of Manchester. From the very limited research I have carried out, it seems that this company was producing bricks from the early 1860s, when they appear in trade directories. By the late 1870s, the firm had premises on Lees Street in Ancoats (Slater 1879, 313). The last reference to the company in trade directories, however, is in 1883, suggesting that they may have ceased trading by the mid-1880s. The attached example was recovered from a former industrial site in the Clayton area of east Manchester.
---
Ramrod


Ramrod Colliery & Brickworks was on Thorne Road, Whiteheath Gate near Rowley Regis and this works is recorded on two O.S. maps dated 1856 & 1902. I have found that Lord Dudley owned the colliery, so I expect he also owned the brickworks. The name Ramrod came from nearby Ramrod Hall which was built by Birmingham Iron Master William Hunt on land leased from the Earl of Dudley when all this area was all open countryside. William Hunt produced iron ramrods for the British Army at his Brades Ironworks during the American War of Independence 1775 to 1783 and this is how his home got it's name. Under mining on this land resulted in Lord Dudley repurchasing the lease back from Hunt & the hall fell into disrepair. Today a school is now built on the site of the former brickworks. Info & Photographed at Carwarden Reclamation Yard by Martyn Fretwell.

---
Ramsay, Newcastle
Messrs G. H. Ramsay and Co, Fire Brick Works. The founder of this business, Mr. G Heppell, first established his brickworks at Derwenthaugh. Expansion plans were put in hand and the largest brickworks in the area were built, capable of completing 7 million bricks per annum. Clay used in the making of the bricks was transported from the colliery which was about 300 yards away. Thanks to George Simpson for the contribution.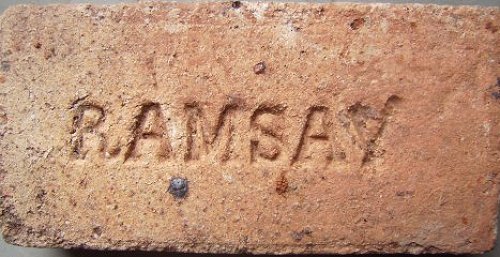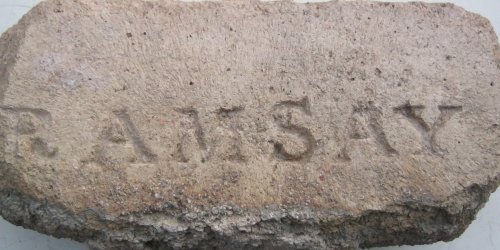 These two examples were found in Kaliningrad, Russia by Vladimir.

---
Randlay, Salop
Started in 1838 by the Botfield family in Stirchley, now part of Telford. It became the Randlay Brickworks in 1856. The brickworks closed by the end of the 1960's with the loss of 91 jobs. It was estimated that in the 1960s the brickworks could produce over 300,000 fiery red bricks in a week; sufficient to build 43 semi-detached houses. More info here: http://blackcountryhistory.org/collections/getrecord/GB149_D-SSW_2_AB/

Gareth found hundreds of these in woodland near Telford.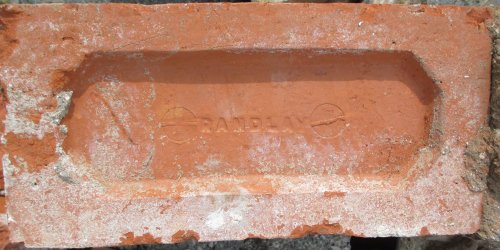 Photo taken at a building refurbishment site in Shrewsbury by Mike Shaw.




Photo taken in Pontesbury by Mike Shaw.

---
Randolph


Randolph Colliery Brickworks, Evenwood, West Auckland, Co. Durham. An example of a Randolph Colliery red facing brick, probably produced from 'seggar' mined in the former Hutton seam. Although the colliery dated to the late 1800's, the brickworks didn't start production until 1931, remaining a private enterprise despite Nationalisation of the coal workings, before finally closing in 1958. Photo and info by Arthur Brickman.

---
Ravenhead Sanitary Pipe & Brick Co.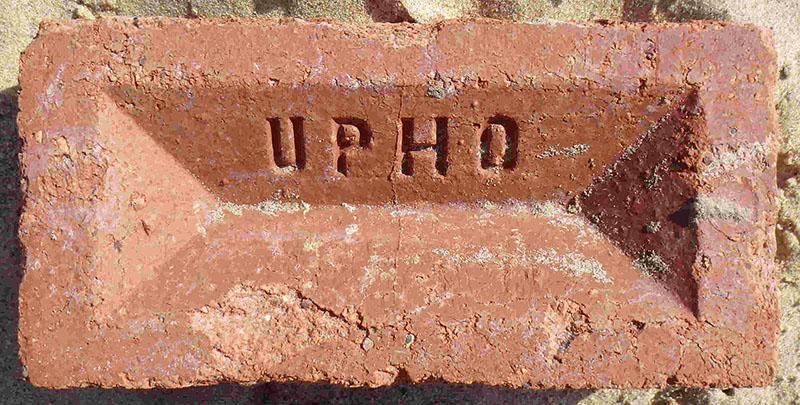 Photo by courtesy of the Frank Lawson collection.



Photo by courtesy of the Richard Symonds collection.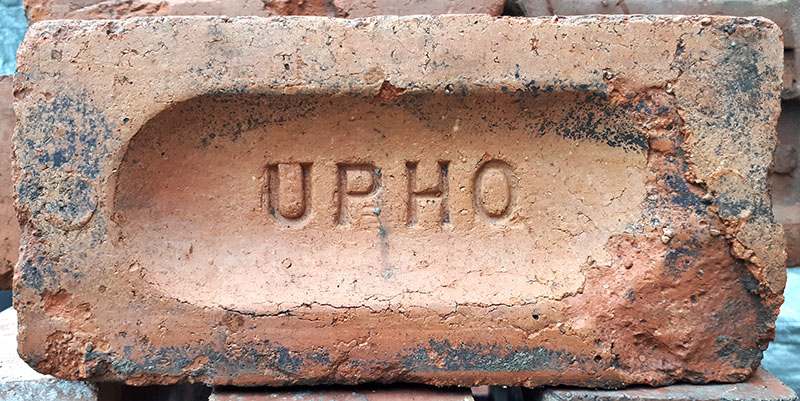 Found in a salvage site in Bolton by Henry Lisowski.
Photo by Henry Lisowski.
Both found on the seashore at Crosby, Merseyside.

Fiona photographed this one in Bootle.
John Harrison has discovered that all the above are products of the Ravenhead company. Their 1922 products book can be read here.
Found in a wall built in 1928. Photo by Friends of Williamson's Tunnels, Lynn Mills.
---
Ravenscar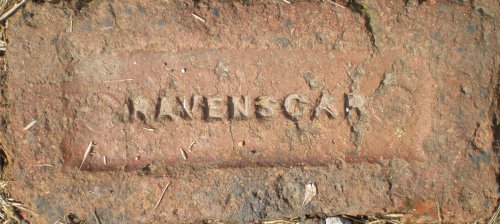 Richard thinks the W represents the Whitaker Brick Co., the owners of the works.
Ravenscar is a village around 12 miles north of Scarborough and has been described as 'the town that never was'. At the end of the 19th Century a development company bought the headland with a view to developing a town that would rival Scarborough and Whitby as a resort. Drainage was put in, ornamental gardens created, streets laid out and named and the nucleus of a shopping centre and a few houses were built, but the investors were unimpressed. The town for which Ravenscar Brickworks was established in 1900, by the Whitaker Brick Co, was never built. Nevertheless, the brickworks, set up in an old Alum Quarry, continued in production into the 1930s and, with the benefit of its own railway siding, provided bricks for, amongst other projects, the former Odeon Cinema in Scarborough. Though the two chimneys were demolished by the military in 1960, the substantial remains of the Hoffman kiln remain on land now owned by the National Trust. Photos and information by Richard Paterson.
---
Ravensworth Birtley
---
M F Raybould


Marshall Frederick Raybould is recorded at Park Road, Harborne, Birmingham in Kelly's 1876 to 1897 editions. With me previously finding a brick marked Partridge & Guest & Raybould of Old Hill between 1860 & 1872, I am working on the theory that Raybould left this partnership to form his own company with the Partridge & Guest company continuing at Old Hill until 1936. Info & Photographed at Carwarden Reclamation Yard by Martyn Fretwell.

---
W Raybould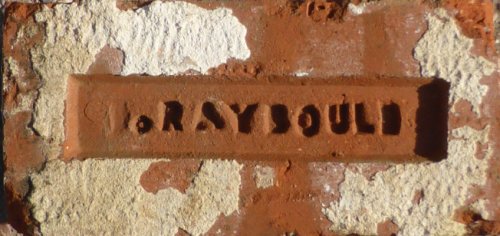 Walter Raybould is listed in Kelly's 1899 to 1905 editions at Harborne Park Road, Harborne, Birmingham. The works had previously been operated by his father, Marshall Fredrick Raybould, see entry above. Info & Photographed at Cawarden Rec. Yard by Martyn Fretwell.

---
Rayleigh Brick Co
The Rayleigh Brick Co. Downhall Road, Rayleigh is listed in Kellys 1929 to 1938 editions with Lamb & Son recorded as proprietors. History of the works at this Link. http://www.rochforddistricthistory.org.uk/page/lambs_brickfields_rayleigh Photos & Info by Martyn Fretwell.


---
Rayner, Gestingthorpe
The Rayner family appears to have been involved in brickmaking in Gestingthorpe since at least 1863 when John Rayner is listed as a brickmaker in White's Essex Directory. Subsequent Essex Directory listings of Rayner brickmakers are as follows: -
1874 - 1894, Mrs Elizabeth Rayner, Gestingthorpe
1904. William Rayner & Co., Castle Hedingham, Halstead.
1914, John Frederick Rayner, Gestingthorpe, Castle Hedingham
As the initials are missing from this brick it is difficult to determine which one of the Rayners might have produced it but its early age might suggest that it was either John or Elizabeth.
Photo and info by Frank Lawson.

Frederick Rayner & Co. John Frederick Rayner was brickmaking in 1914. Photo by Martyn Fretwell.

---
Read & Andrews, Bletchley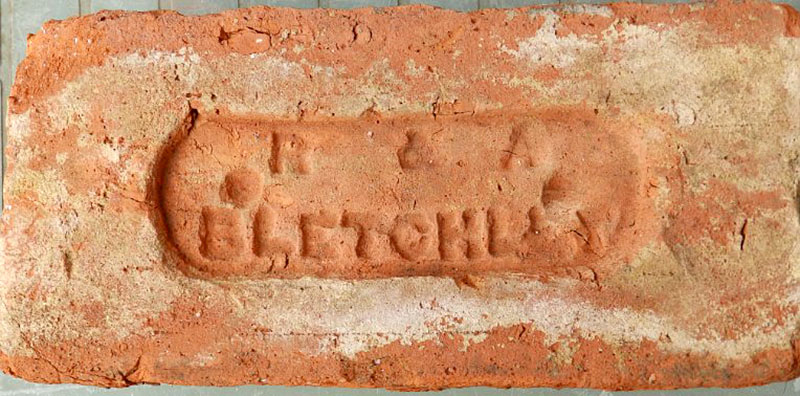 The history of this brickworks, the forerunner to the London Brick Co. in this area, is as follows;
1847 There was a local brick maker near Newton Longville.
1890 Thomas Read & Son acquired the works, later to be joined by Richard Andrews, so Read & Andrews formed.
1919 Joined by builders merchants W. T. Lamb & Sons.
1921/2 Became the Bletchley Brick Co.
1925 Started to produce 'flettons'.
1929 Purchased by London Brick Co. & Forders.
1933 New works were constructed on the opposite side of the Newton Longville to Bletchley road.
1936 Name changed to London Brick Company.
1943 Taken over by the Ministry of Supply to store ammunition in the kilns, an ordnance depot was established.
1984 Became part of the Hanson Trust.
1991 November. Works closed. Photo and info by Nigel Furniss.

---
Reading, Normanton, Derby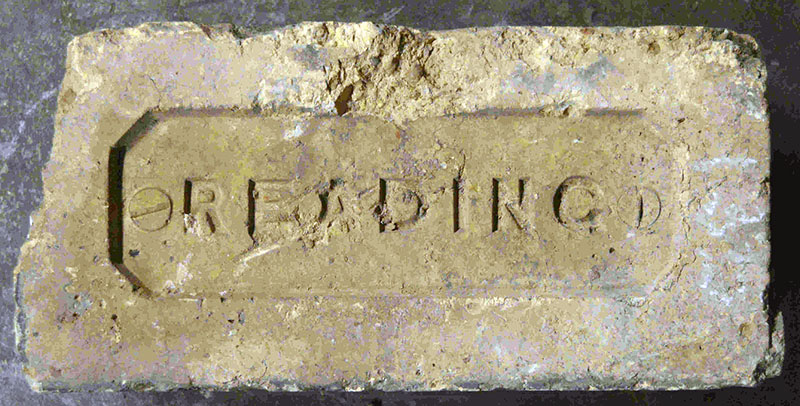 No Kelly's info on Reading as brickmaker, but I have found that the Normanton Brick Works is marked on a 1900 OS map on Sinfin Lane, Normanton, Derby next to the Birmingham to Derby railway line. Photo & Info by Martyn Fretwell.

---
Redbank, Measham
The Redbank Brick Company is recorded in Kelly's for 1895 and was on Atherstone Road along with two other brickworks - Measham Terra Cotta & Coronet. The company may have taken its name from nearby Red Bank Farm. In 1955 the company produced bricks and pipes. 1983 saw the company expand to produce tiles, chimney pots and terracotta. Now owned by Hanson this works closed in 2009 to be replaced by an ultra modern automated brickworks on adjoining land. Link to aerial photo from 1933 with Redbank in foreground with Coronet works on other side of railway line. Info by Martyn Fretwell.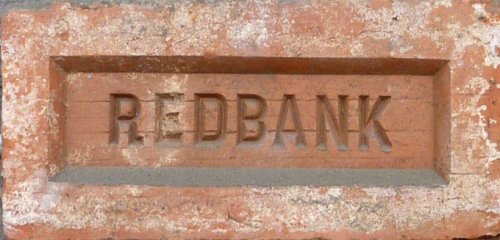 Photo by Martyn Fretwell.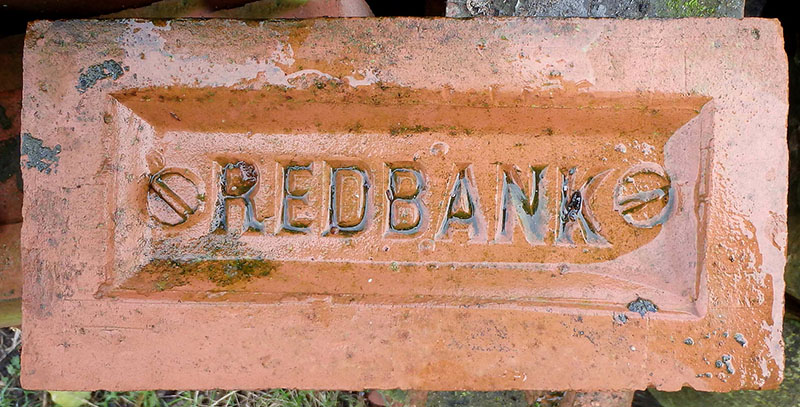 Both found in North East Derbyshire. Hanson have opened a '50 million brick factory at Measham in Leicestershire built on the landfill and stock site of the old Red Bank brick works. This new factory has the capacity to produce 100m bricks a year with just 28 people. Thanks to Simon Patterson for the photos and information.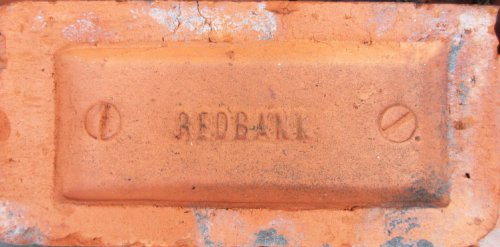 Photo taken by Jo Roesen at Broadway station Worcs, read their blog here.

---
Red Hill Bank Brick Works, Rocester, Derbyshire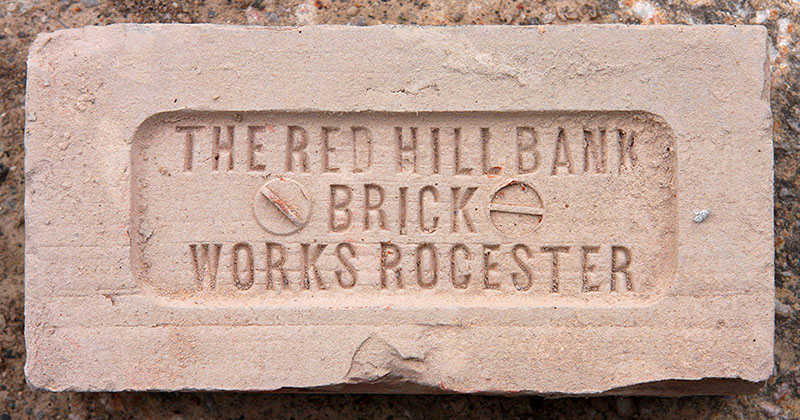 Photo by courtesy of the Frank Lawson collection. Found near Wirksworth in Derbyshire. Red Hill Bank brickworks was established in the 1890s alongside another brickworks, the Rocester Works adjacent to Rocester Station. By 1922 the two establishments appear to have amalgamated into one works which was still in business in the mid 1950s. The site is now occupied by the JCB factory. Info by David Kitching.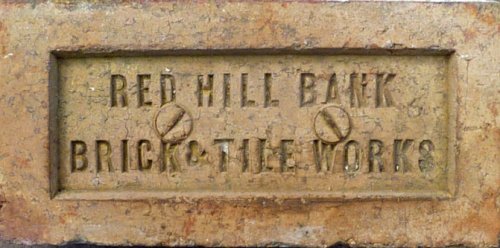 Photographed at Cawarden Reclamation Yard by Martyn Fretwell.

---
Redbourn, Crowle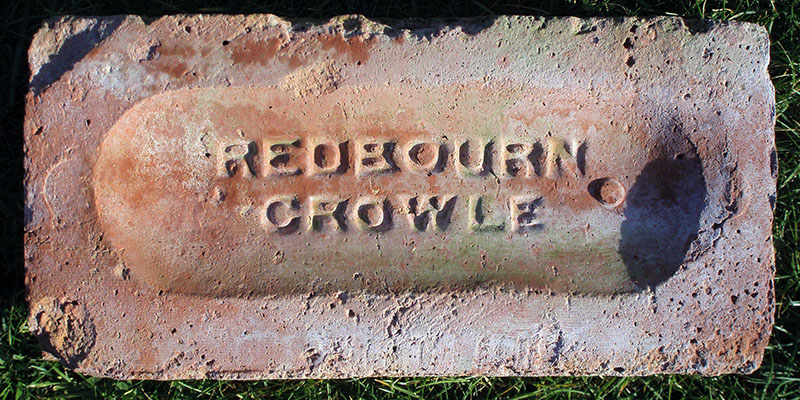 Crowle is near Scunthorpe in Lincolnshire.
---
Redding, Cambridge


Redding & Son are listed in Kelly's 1879 to 1888 editions at Tennis Court Road, office & works, Newmarket Road, Cambridge. Info & Photo by Martyn Fretwell.

---
Reddish, Beighton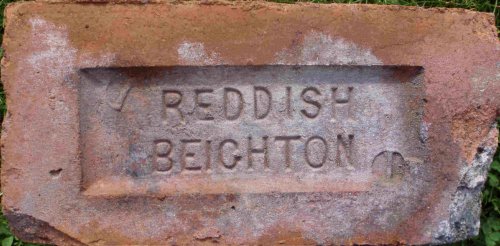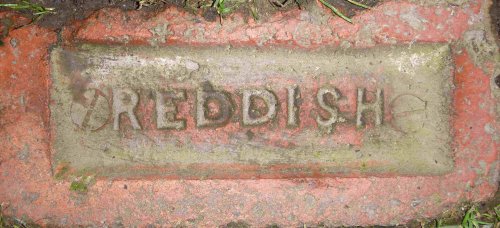 Photos by courtesy of the Frank Lawson collection. Frank writes: 'Beighton is an ex mining village to the south east of Sheffield and Gregory Reddish Co Ltd of Deepcar, Sheffield are listed as brickmakers in Whites Directory of 1919 - I wonder whether they also had a works at Beighton?'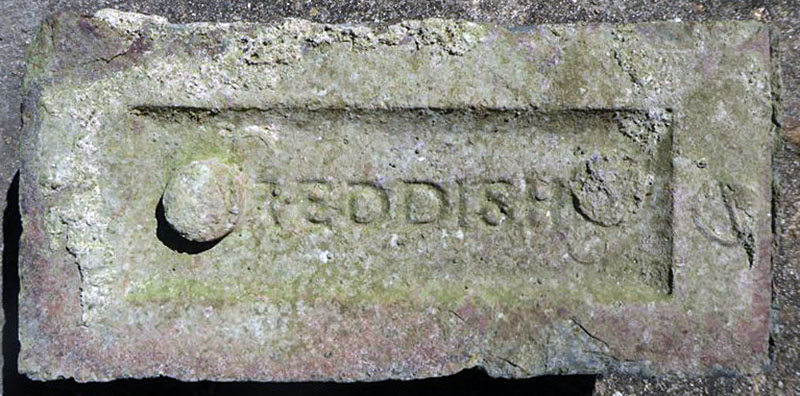 Photo by Guy Morgan.
---
Redfern


Edward Redfern, Barrow Hill, Waterloo Road and Sherborne Street, Cheetham, Manchester. Slater's Directory of Manchester 1863.

---
Redfern, Swadlincote


Found at Stanton, Swadlincote, Derbys. by Frank Lawson.

---
Redheugh Brick Co.


A product of the Redheugh Brick Company, their works on the Teams, a tributary of the Tyne near Dunston on the outskirts of Gateshead, ceased production around 1915, the company having only been in existence for some 35 years. Image courtesy of the 'Thames Bricks' website, showing items found mudlarking on the River Thames in London.

---
Redland Flettons


Found near Peterborough




Found around the Hayling Island / Langstone Harbour shoreline in Hampshire by Tony Russell.

---
Thomas A Redway

The Rill Park Brick & Tile Works was producing from 1863 - 1900. It was situated on land near to Marpool Hill, purchased from the Rill estate. Photo and information by Simon Fogg.

---
W. Reed & Co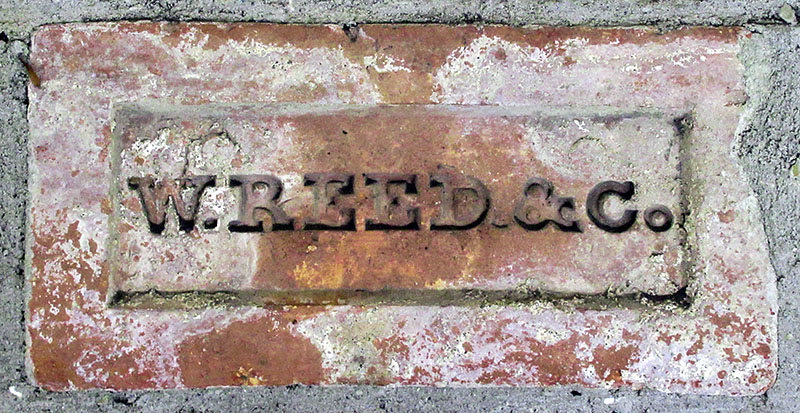 Photographed at Beamish Museum

---
W. Reed
Spotted in a wall in Southsea, Hampshire by Nigel Furniss. Most unlikely to have been from the same works as the other W Reed.

---
Regd Beryl: see Berry Hill
---
J Rhodes, Pontefract
Photo by courtesy of the Frank Lawson collection.
---
Richardson, Teynham
Made by Charles Richardson in Teynham, Kent. Photo by Tim Richardson.
---
Charles Richardson


Found in Derbyshire by Martyn Fretwell. Martyn thinks that that CR could be Charles Richardson of Vauxhall, London, His brickfield was at Teynham, Kent and his cement works at nearby Conyer. He owned wharves at Vauxhall and Conyer, using his own barges to transport his goods. His bricks were stamped CR. In the early 1880's he joined forces with John Francis Eastwood and four others to form Eastwoods Co. Ltd. supplying bricks to London, Kent and Essex by barge. An ever expanding Eastwoods went on to own many brickworks in Eastern and South-Eastern Counties of England including making Fletton bricks at Peterborough. See entry for Eastwoods. Photo by Martyn Fretwell.

---
Richardson, Danbury

Herbert John Richardson is listed in Kellys 1899 edition at the Danbury Brickworks, Danbury, Chelmsford, Essex. The entry in Kellys 1902 to 1910 editions is
Richardson Brick & Tile Co. (Danbury) Ltd. Photo & Info by Martyn Fretwell.

---
W Richardson, Wordsley


William Richardson is listed in Kelly's 1872 edition at Wordsley, Stourbridge. I have another reference to him owning the Naggersfield Brickworks located next to Naggersfield Colliery. This brickworks was situated just a short distance from Wordsley in Buckpool & is shown on a 1882 map. Info by Martyn Fretwell & Photo by Keith Hodgkins.

---
W W Riddell & Co., Garrison Farm


Made in Birmingham, photo by Ray Martin.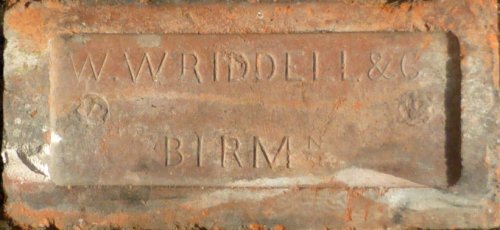 Photo by Martyn Fretwell courtesy of the Chris Thornburn Collection.

---
Riddings
Riddings is a village in Derbyshire . It is located 2 miles south of Alfreton.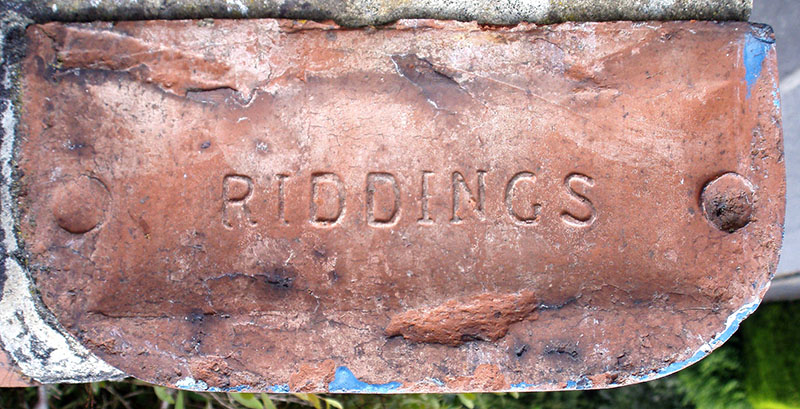 Photo by courtesy of the Frank Lawson collection. Photographed in Kiburn, Derby.
Photo by Martyn Fretwell who writes: It appears Riddings bricks where made in Jacksdale, Notts, by James Oakes & Co. (Riddings Collieries) Ltd. He owned several collieries, a very large iron works, situated next to the Cromford Canal and on another site next to Pye Hill Colliery, he manufactured clay pipes and bricks. The Oakes family lived at nearby Riddings House, an 80 acre estate in Riddings, Derbyshire. Nothing is left to see, on either site, to remind us of these glory days of manufacturing, only his bricks!

---
Daniel Riddiough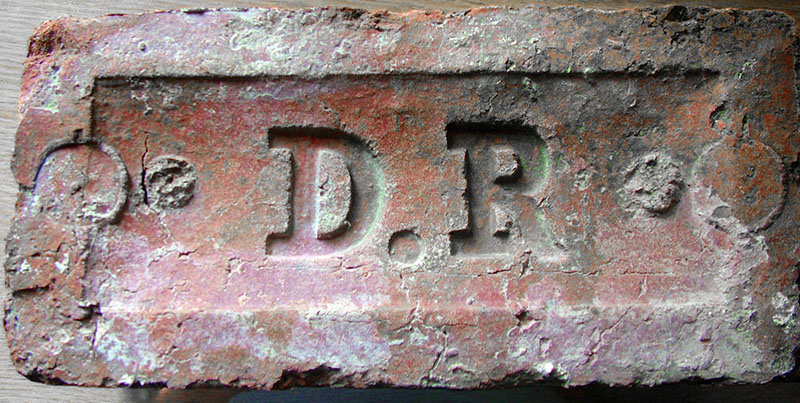 Derek Barker writes: This brick was made by Daniel Riddiough. Unless I am very much mistaken brick-making seems to be the least of his accomplishments. Daniel Riddiough was born in Colne, Lancs and was also a builder and quarry owner in the Otley Rd/Killinghall Road area of Bradford. He seems to have owned what was called the Peel Park Brewery, Otley Road built in 1853. Apparently he sold this concern in 1872, but then bought it back after the new owners went bankrupt in 1882. In 1891 he finally sold out his brewery and 17 pubs to Hammonds Bradford Brewery Co Ltd but continued as a brick-maker, perhaps until he died in 1911. The brick works included a circular Hoffmann kiln and are well marked on contemporary maps at at Cliffe Lane, Bolton Road.
---
Ridgefield, Castleford
Photo by courtesy of the Frank Lawson collection.
---
Ridgehill, Madeley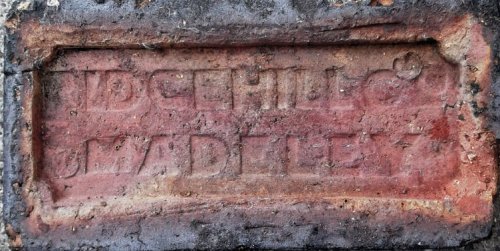 The Ridge Hill Brick and Tile Co works was in Madeley, Staffordshire. First mentioned in 1848 when it was operated by John Kennerley a local farmer. The business operated under the same name until just before 1912 when it changed to Brick & Tile Workers Ltd. The site is still in use by Marley-Eternit producing hand and machine made clay tiles. Photo and information by David Kitching.
---
Ridsdale


From the now landscaped brickworks at Ridsdale, Northumberland. These works were probably disused by 1863 as the OS map of that year shows an 'Old Brick Works'. Photo and info by Scottish Brickmarks.

---
Rigley & Claxton, Heanor


Rigley & Claxton, Nelson Street, Heanor, Derbys. Kelly's Derbyshire Directory 1895. Photo courtesy of Derby Museums. Info by Frank Lawson.

---
W Riley


William Riley is listed at Halmer End, Newcastle, Stoke in Kelly's 1880 edition. Info & Photo taken at Apedale Heritage Centre by Martyn Fretwell.

---
Ripley
Spotted in Riddings, Derbyshire by Martyn Fretwell who thinks it may have been made by Slack of Ripley.
---
Ripley, Hillsbro
Found in Sheffield 6 by Michaela. Made at the Walkley Lane Brick Works which was owned by Henry Ripley. These were operational from 1900 to 1904, thanks to A.K.A.Demik.
---
Rippers Ltd


Rippers Ltd. was first started in 1890 by three brothers who were builders in Castle Hedingham, Essex & by 1899 they had established their builders & joinery business in Sible Hedingham. In 1924 Rippers Ltd. built 100 houses for it's workers as there was a shortage of housing in the village. So I expect this is when these bricks were made for these houses either by the company or at another local brickworks, as I have been unable to establish if Rippers Ltd owned a brickworks. More info at this Link. http://www.siblehedingham.com/History.html Info & Photo by Martyn Fretwell.
---
Ritson


A fairly primitive 'Ritson' brick from 1860s or '70s. Recovered from a farm building demolition at Knitsley near Consett, Co. Durham. Research reveals that an H.Ritson was an owner of a Carr House Firebrick Works as well as the South Pontop Colliery, both at Consett, in the 1850s and '60s. Photo and info by Ian Hunter. See the R Dickinson entry for a later product from Carr House Works.

---
George Rixon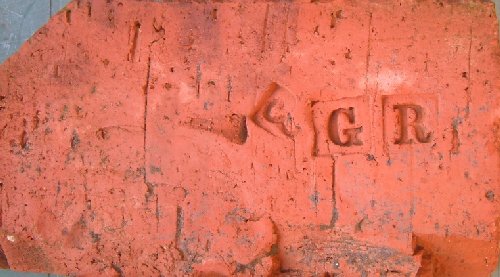 George Rixon is mentioned in the Northamptonshire archives in 1862 as supplying drainpipes from Moulton Kilns. There was a brick works on the northern side of Moulton, near Northampton, first operated by a G. Rixon, then by a succession of owners until 1901. Photo and info by Nigel Furniss.

---
Rixon & Co. Wellingborough


This works was started in 1870 by James Rixon & he is listed in Kelly's 1877 edition at Finedon Road bridge, Wellingborough. By 1883 James' large works included a rectangular continuous kiln & a railway siding connecting the works to the main railway line. James also established an ironworks next to his brickworks in 1866. Rixon & Co. was taken over in 1899 by the Wellingborough Iron Co. who ran the brickworks until 1927. Info & Photo by Martyn Fretwell.

---
Robert Heath see Heath
---
William Roberts, Liverpool


Spotted on the beach at Crosby, Merseyside.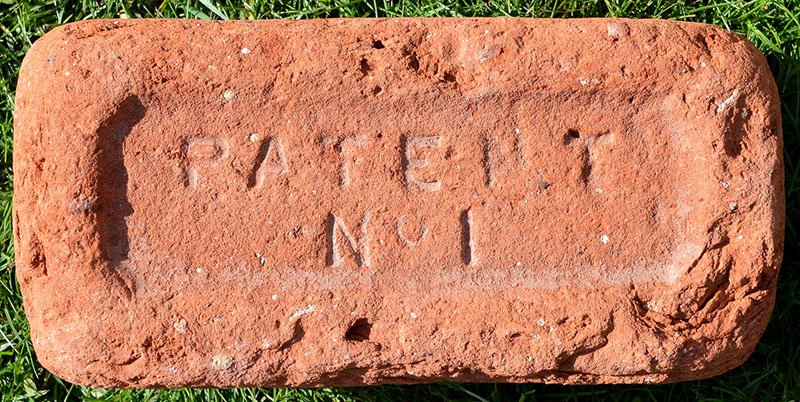 William Roberts, Bricklayer, Builder & Brickmaker, 70 Plumbe Street, Liverpool. Gore's Liverpool Directory 1853. Images and info from Frank Lawson.
---
Roberts, Tunstall
Anthony Roberts' brickyard was on Furlong Road opposite the Greengates Pottery and was later known as Newfield Marl Works. It is only mentioned in the 1875-76 trade directory and is not listed in 1873-74 or 1879, by which time the works was being run by Charles Salt. Photo and information by David Kitching.
---
Joseph Roberts


Directories would suggest this brick was made by Joseph Roberts, Quarry Brick Works, Cleckheaton - 1889 to 1897, it having been found at nearby Hunsworth. Image PRBCO.

---
J Robin
Possibly from Lancashire.

---
Robinson, Arnold


Samuel Robinson, brickmaker in Arnold, Nottingham is listed in Kelly's 1876 to 1881 editions. Then in the 1885 to 1895 editions the entry is Robinson & Sykes, Dorket Head, Arnold, Nottm. This works was then sold to the Nottingham Patent Brick Co. in 1900 & bricks are still produced there today by Ibstock. Photo by Jeff Sheard, Courtesy of Nottingham City Museums & Galleries & Info by Martyn Fretwell.

---
Robinson, Crowle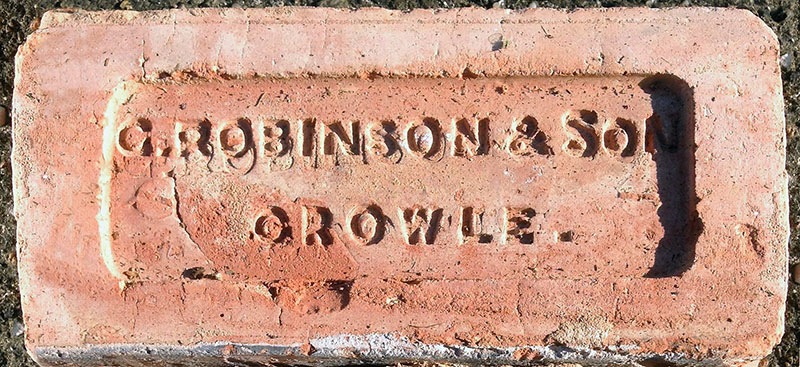 Photo by courtesy of the Frank Lawson collection.
---
Robinson, Sheffield
Thanks to Simon Patterson for the photo
Photo by courtesy of the Frank Lawson collection.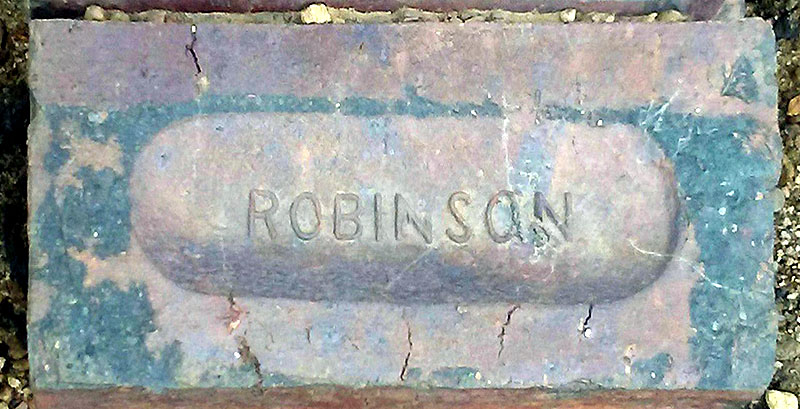 Photo by Richard Carr.
---
Robinson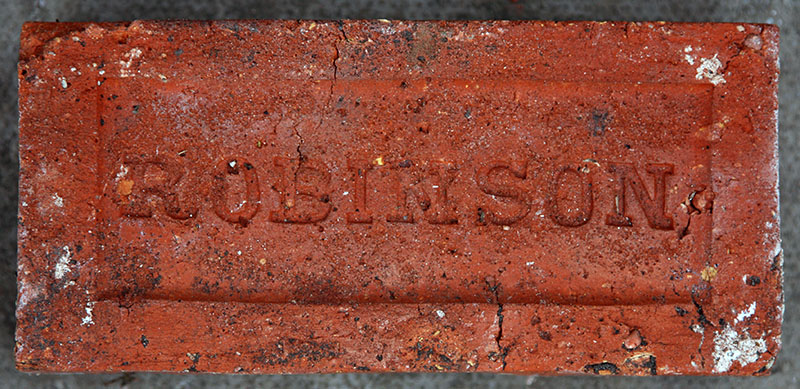 Robinson & Wilson, Hanford, Stoke-on-Trent 1873-1879. Photo and info by David Kitching.
---
G Robinson, Masbro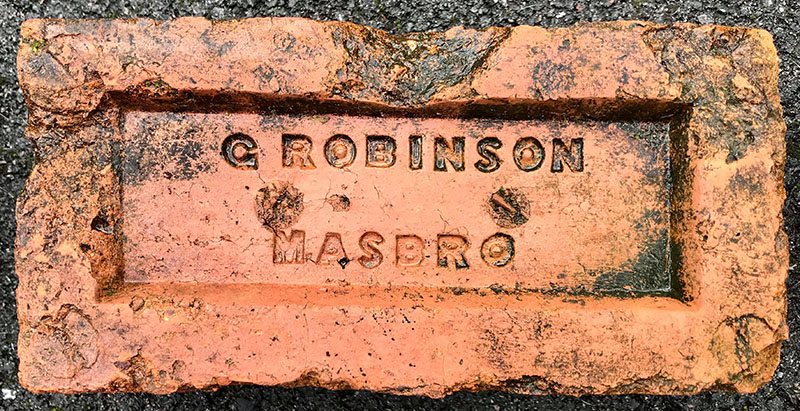 This was made in Masborough, Rotherham and found by Simon Patterson in N.E. Derbyshire.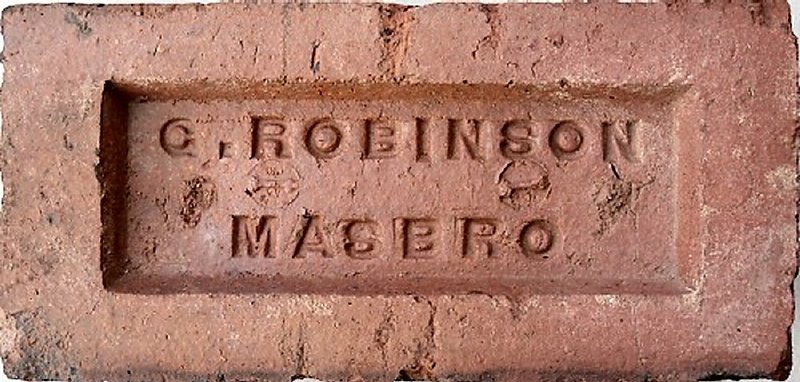 Found by Ray Martin at the postal sorting depot at Sutton Coldfield Park Station, originally built in 1942 as the USAAF Postal Depot. During WW2, all US forces post to and from Europe was sorted at this depot. After the war it was taken over and extended by Royal Mail.
---
Robson


Photo by Mark Cranston

---
W Robson


Photo by Carla van Beveren who adds: I found this while walking the Yorkshire Wolds Way, outside the village of Brantingham, near South Cave, East Yorkshire. It seems there was a brickyard in Hedon, Kingston Upon Hull, which was owned by a J W Robson. It appears to have closed in the 1940s.

---
John Roby, Rainhill
Rainhill is close to St Helens. In the 1881 census John Roby is described as Brass Founder & Brick Maker Employing 29 Men & 3 Boys.
---
Rocester Brick Co.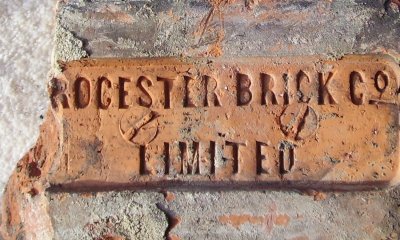 Helena writes: I am after the dates this was known as the Rocester Brick Co ltd. I believe this became the Red Hill Works. Can you help?
---
Rochdale Brick Co.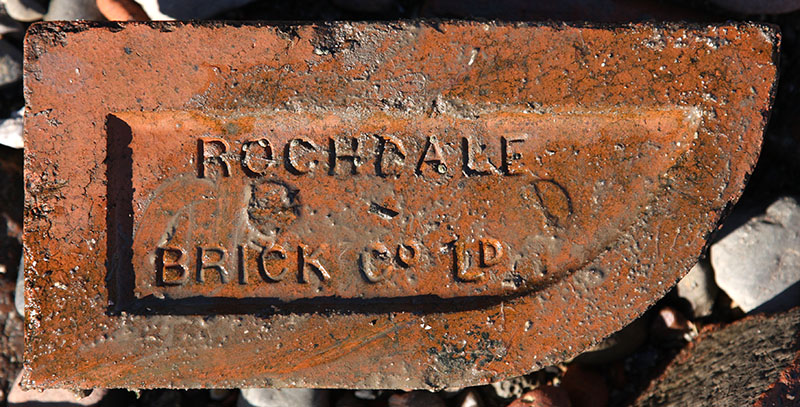 A curved end brick, found on the foreshore at New Ferry, Wirral.
Photo by courtesy of the Frank Lawson collection.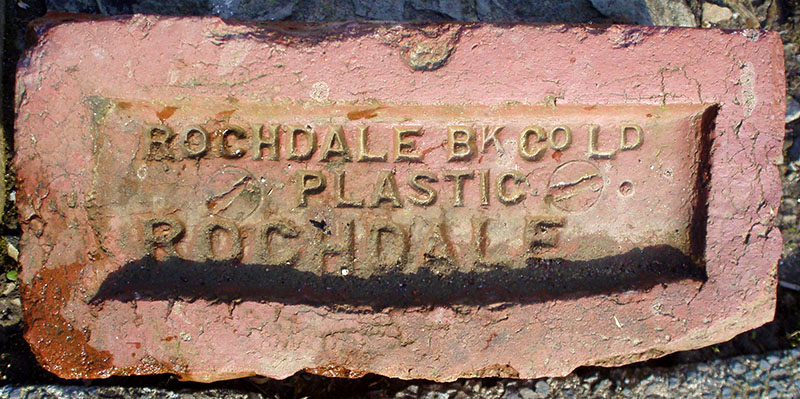 Photo by courtesy of the Frank Lawson collection.



Photo by Mike Gregg.

---
Rochdale Property & Finance Co: see Dearnley Brickworks
---
Rock Red, Leeds
Photo by courtesy of the Frank Lawson collection.



Photographed at Cawarden Reclamation Yard by Martyn Fretwell.

---
G Roe
George Roe of Cromford Road, Ripley is recorded in White's Directory for 1857. Photo & Info by Martyn Fretwell.
---
Roe & Son, Hanford and Derby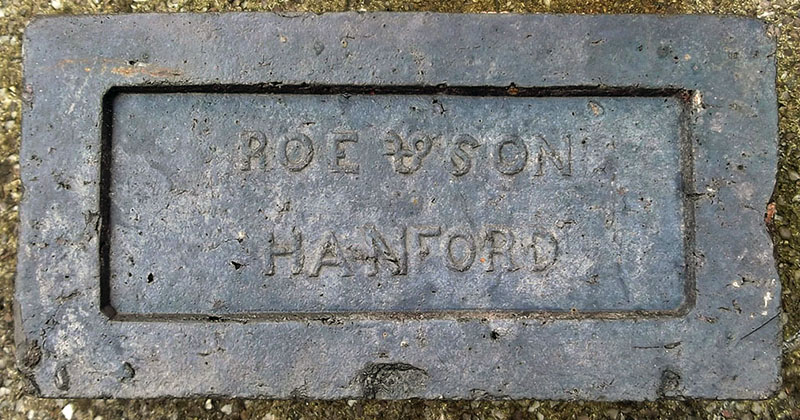 Roe and Son are listed in trade directories of 1875 and 1879 as brickmakers at Hanford, Stoke-on-Trent. Photo and information by David Kitching. From the Ken Perkins collection.




This is the same company as the above. T. Roe & Son are listed as making red bricks at Siddals Road, Morledge, Derby in Kelly's 1864 & 76 editions & blue bricks at Hanford, Stoke on Trent in Kelly's 1860 to 1876 editions. Photo & Info by Martyn Fretwell.

---
Rogers


A modern brick made by a company in Oxford and used for outside garden walling. Photo by Steve Cotgrove.

---
Rogers, Wheal Remfry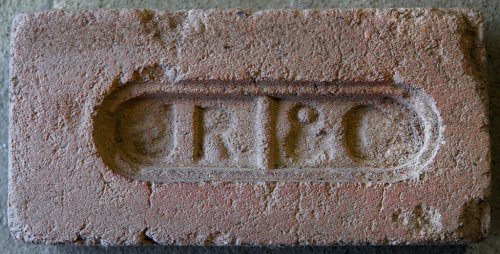 All made at Wheal Remfry Brick & Tile Works SW929577. Photos by David Kitching, part of the collection at Wheal Martyn China Clay Museum.

---
Romiley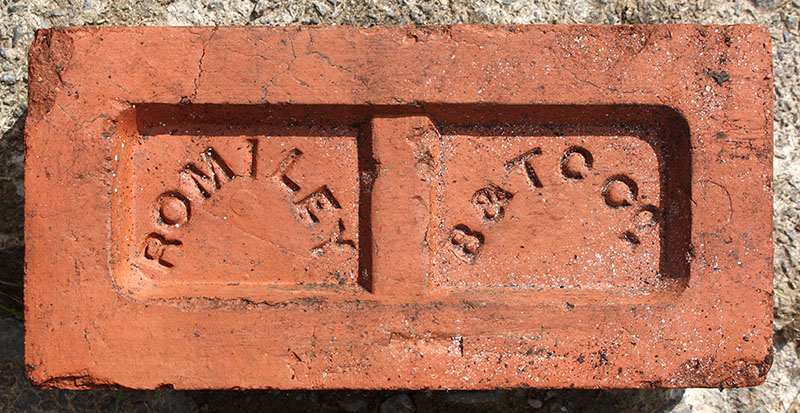 Photo by Paul Marshall.

---
Romiley Plastic Co.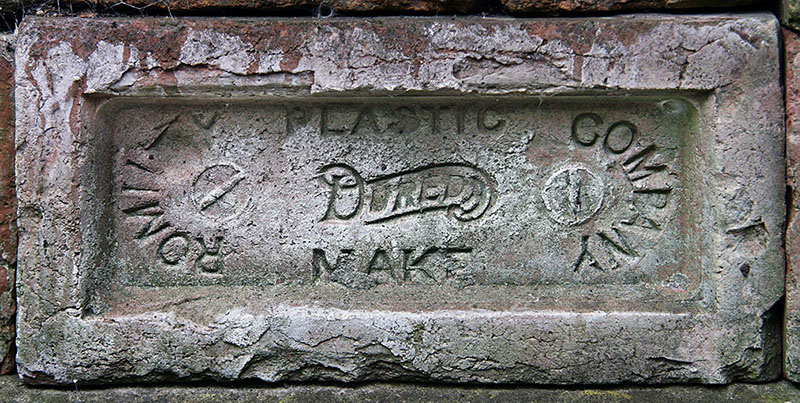 Dureda was the trade mark of the Romiley Engineering Brick Co according to the 1931 List of marks, trade names and trade marks on bricks tiles, stone and sanitary ware. Photo and info by David Kitching.
---
Rosemary
Rosemary Blue Brick. Rosemary Brick and Tile Works. In 1984 Redland acquired the company. Thanks to Darren Haywood for the contribution.
---
Rose Hill


Rose Hill is in Marple, Stockport. Photo by Alan Hulme.

---
Rosher's (Ipswich)


The Rosher Brick & Tile Co. are listed in Kelly's 1892 to 1900 editions at Whitton, Ipswich. This brickworks was taken over by Bolton & Laughlin in 1901. Info & photos by Martyn Fretwell, courtesy of the Bill Richardson Collection. Also see A. Bolton & Bolton/Laughlin entries.

---
Rotherham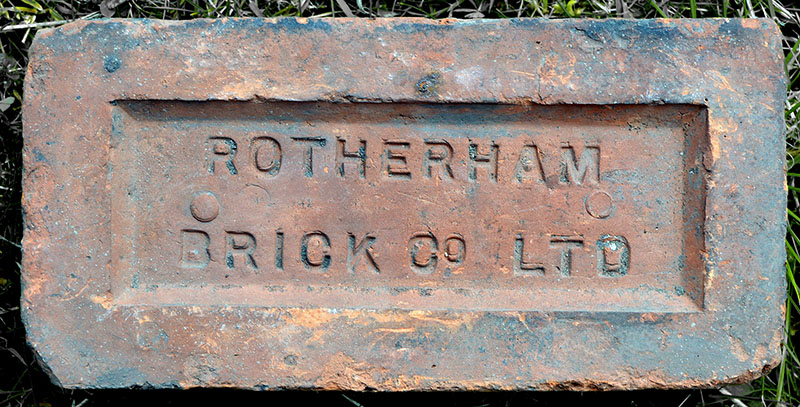 Photo by courtesy of the Frank Lawson collection.
---
Rother Vale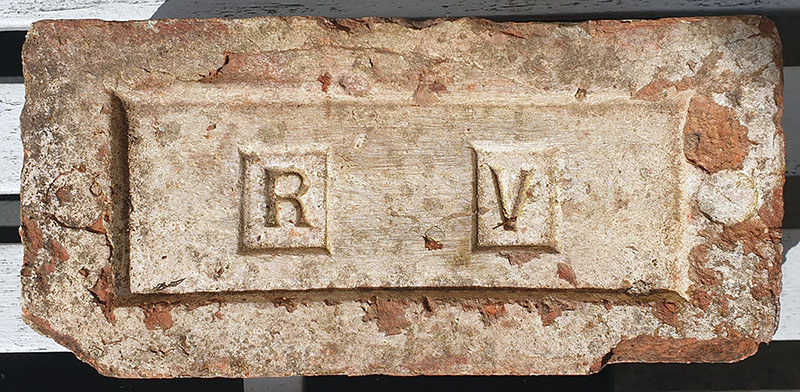 Found by Simon Patterson in Barlborough, Derbyshire and Harthill, South Yorkshire - only 2 miles apart. R V stands for Rothervale, the brickworks was at Thurcroft near Rotherham and was associated with Thurcroft Colliery which was owned by the Rothervale Company. Thanks to Frank Lawson for the info.
Thanks to Simon Patterson for the photo
---
Rough Hay Brick Co. Darlaston


Found by the old police station near All Saints Church, West Bromwich, photo by William Whitehead.

---
Roughdales
Photographed on the seashore at Crosby, Merseyside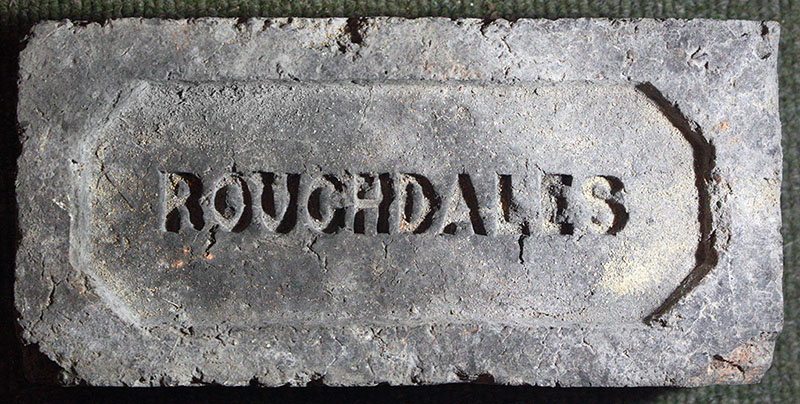 Roughdales Brick & Coal Co. Ltd., Sutton, St.Helens. Slater's St Helens Directory 1885. Info from Frank Lawson.
---
Rougham
This brickworks at Battlies Green, Rougham was an estate brickworks belonging to Rougham Hall & was operational between 1890 & 1939. Info & Photographed at the Museum of East Anglian Life by Martyn Fretwell.

---
Rouse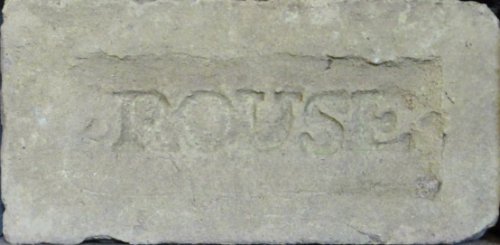 J.B. Rouse & Sons are listed in Kellys 1916 & 25 editions at Frostenden, Suffolk. The family also had another works at South Cove. Info & Photo by Martyn Fretwell.

---
R L Roveries


Photo by Mike Shaw and by courtesy of the Nick Southwick collection. Made in Lydham, Shropshire

---
Rowfant
Photo and info by Richard Symonds: Brickfield south of the former railway at Rowfant, nr Worth, Sussex. NGR TQ 330 365. In existence by 1875; marked as Rowfant Brick Works from 1912 onwards and said to have closed in the early 1960s, although it was referred to as Hundred Acres Brickworks, Turners Hill in 1972. James Terry advertised from 1875 to 1907. George Wells, who had another brickyard south of the former railway at Grange Road Station, Crawley Down, took over the yard. After WWII it was run by W. Harbour & Sons, of Copthorne. The map of 1910 shows a railway line into the works and 7 kilns: three circular and four rectangular.
---
Rowland, Dukinfield


William Rowland was operating a brickyard at Birch Lane, Dukinfield in 1857. The letters on the original brick may stand for John Rowland, Dukinfield, his father, who died in 1856. On the obverse of this brick is 'Percys Patent'. Photo and info by David Kitching.

---
Rowlands Castle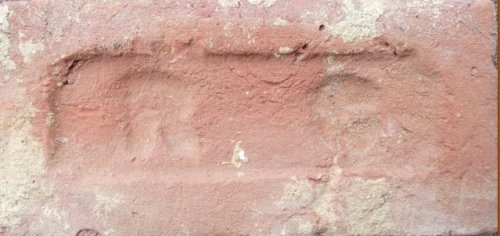 Photo by John Morley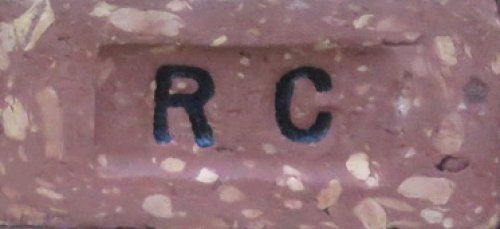 Found around the Hayling Island / Langstone Harbour shoreline in Hampshire by Tony Russell.

---
Rowley Station


This is a paviour brick. Photo by Alwyn Sparrow.

Martyn Fretwell writes: Rowley Station Brick Works Co. (David Cook Manager) Cakemore, Blackheath, Dudley is recorded in Kelly's 1900 edition.
---
Royal Oak, Whiston
Whiston is between St Helens and Liverpool.
---
Royal Potteries, Weston Super Mare
Charles Phillips born 1816 in Badgworth, Somerset was already skilled at the potters wheel by the age of nine. John Mathews was a native of Scotswood in Northumberland. Mathews acquired the sole patent to Pooles patent bonding Roll Tile. Conway Gould Warne was formerly a potter in Rochester in Kent, Warne invented two new products, a land drain well and an electric cable trough. The Royal Potteries started probably around 1837. In 1847 the clay in Weston was pronounced by competent judges to be of better quality than any other in the country. By the late 1930s a thousand workers were employed there. In 1952 the Pottery received its last Royal order for 126,000 flower pots to be used in the Coronation displays around London. Weston pottery was then still considered to be the best in the country. The Pottery went into voluntary liquidation in November 1961. Thanks to John Biggs for the photos and information.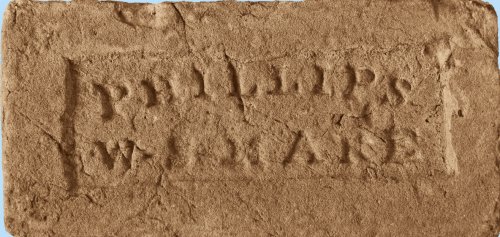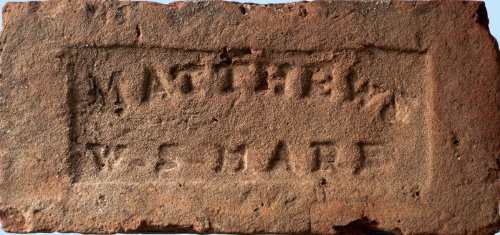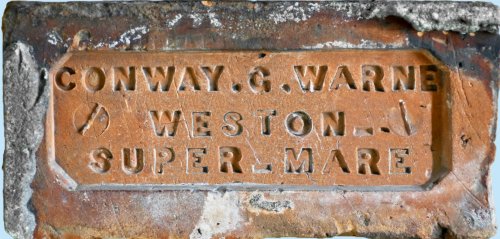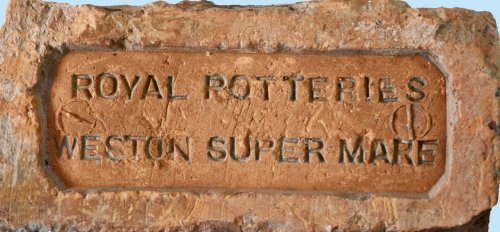 ---
Rudd & Son, Grantham


Kellys 1876 edition lists Rudd & Son at Brick Kiln Lane, Spittlegate, Grantham. Kellys 1885 to 1905 editions then records him at Wharf Road, Grantham, but this will have been his office address. Entries in Kellys 1909 to 1930 then gives the works address as Springfield Road. Old maps have revealed that Brick Kiln Lane was renamed Springfield Road. Info & Photo by Martyn Fretwell.

---
Rufford, Stourbridge
Made in Stourbridge by Rufford & Co.
http://www.tom.cockeram.clara.net/Industry/188700rc.htm
Photo by Alan Murray-Rust



Front and back of a Rufford brick, found at Napton, Warwickshire by Nigel Furniss.




An ancient Rufford example spotted at Sunbury Plantation House, Barbados by Paul Hughes. It probably arrived there as ships ballast.

---
Rufus
Rufus (Proctor Bros.) Brick & Tile Ltd, Newcastle-under-Lyme, Staffordshire. The brick yard was situated in the Bradwell Wood area near Parkhouse colliery (coal & clay). This brick was found in the woodland of Bradwell Wood in 2002. The yard also made roof and floor tiles and eventually closed in the 1970's. The clay (marl) in this area was dug out from the hillside of the woodland as opposed to the conventional method of extracting from marl holes. Thanks to Ken Perkins for the photo and history.
---
Rushbrooke


Kellys 1888 edition lists William Rushbrooke at Westley, Bury St. Edmunds, but this may have been his home address. Kellys 1892 edition then lists William with the address of Rushbrooke, Bury St. Edmunds. Delving into the web has revealed that Rushbrooke village & Rushbrooke Hall where named after the Rushbrooke family, but alas William Rushbrooke's family were no longer the owners of the Hall or village in 1892. We then find that William Rushbrooke is listed in Kellys 1896 & 1900 editions as brickmaking at Little Whelnetham, Bury St. Edmunds. The 1882 & 1903 OS maps do show a brickworks in Little Whelnetham (det.). This village is marked on maps in two places with the main part of the village being on the southern edge of the Rushbrooke Hall Estate, however the brickworks was situated in the Little Whelnetham marked as det. (= detached) & near to the entrance driveway to Rushbrooke Hall, just north of Sicklesmere. I am thinking that William Rushbrooke was at this Little Whelnetham brickworks from 1888 to 1900. Just to note that the site of this former brickworks is today farming land on the edge of Sicklesmere & is no longer marked as Little Whelnetham. Info & Photo by Martyn Fretwell.

---
Rushden Brick & Tile


In the 1851 census a Jeremiah Litchfield and a Thomas Hardwick were recorded as brick makers in the Rushden area.

1864 - 1884 a Robert Octavius Butcher was operating a small brick yard with a single kiln, he was recorded in the trade directories as a grocer and brick maker.

By 1894 the large works of Rushden Brick & Tile Co., founded by John Clark, was in operation using a continuous kiln. The whole site of 116 acres was served by a tramway system, and there was a sand pit to the east of the works. During the 1880's and 1890's they were working at full capacity to keep the builders supplied as several new streets were being built. On 15th June 1900 the works was struck by lightening causing '300 of damage and throwing a number of men out of work for some weeks. A 1933 letterhead shows that they were a limited company making hollow partition and flooring bricks, agricultural drainpipes, red pressed and wirecut bricks, and supplying silica sand and ganister for cupola lining and general refractory purposes. By 1st May 1941 the whole works, plant and machinery, steam engines, boiler, rails, etc. was up for sale.

Photo and info by Nigel Furniss.




Photo by Martyn Fretwell courtesy of the Bill Richardson Collection at Southwick Hall.

---
Rushforth Adwalton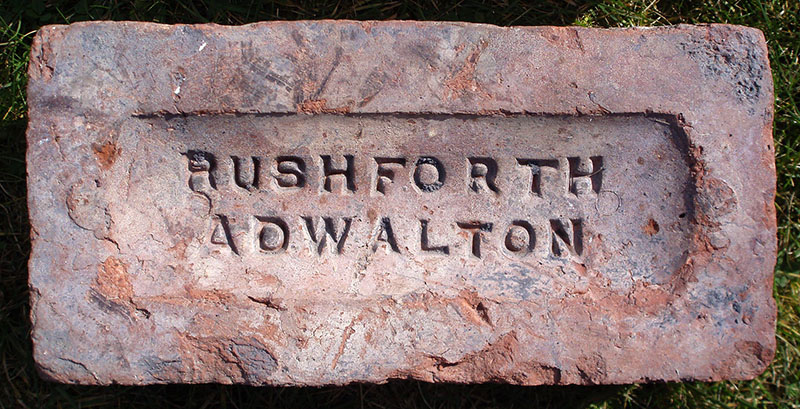 Photo by Darrell Prest. The works of Rushforth, Adwalton, is officially the 'Drighlington & Adwalton brickworks'; it is simple to find being now owned by a Brewers Fayre Restaurant. The original chimney remains as do a portion of the works buildings, now converted into a Premier Inn & Restaurant. Some memorabilia, in the shape of letters to Rushforths, are on display. This works is unquestionably the source of [RUSHFORTH][ADWALTON] bricks, very commonly found in Bradford 20th century buildings. Thanks to Derek Barker for the information.
One of many variant stampings from this site. Works operated cl893 to c1985, Adwalton Brickworks, Drighlington, West Yorkshire. Image PRBCO.
---
Russell, Sileby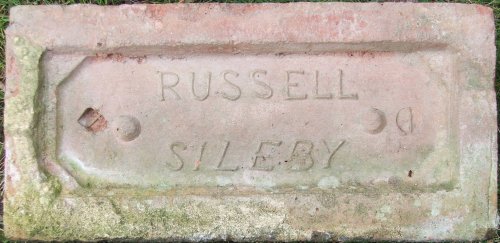 Made by Thomas Russell of Sileby in Leicestershire. He was listed in three directories of 1876, 1877 and 1881. In the directory of 1877 he is listed as being in Brook Street Sileby. Photo and info by Dennis Gamble.

---
Ryder Openshaw
Found in an 1880's house in Manchester by John T Pitman



Found in a section of wall alongside the Ashton Canal in the Ancoats area of Manchester by Alan Murray Rust.




Photographed at Macclesfield Reclamation Yard by Martyn Fretwell.

---
J H Ryley, Louth


Photo by Martyn Fretwell taken at the Museum of Lincolnshire Life, Lincoln.

Martyn writes :- James Hunter Ryley, Chequer-gate Louth is recorded in Kelly's 1861 edition, followed by Mrs. Betsey Ryley, works Eastgate, Louth in Kelly's 1876 edition.
---