"Old Bricks - history at your feet"
England page 8, Letter F
---
Farco


Photo by Tom Langton. Martyn Fretwell writes :- Farco was a trade name used by the Farcet Brick Co. in Peterborough, which was owned by the McDougall family (flour mills) of Manchester. The Farcet Brick Co. in Farcet, Peterborough appears in Kelly's 1898 & 1903 editions with N. McDougall as secretary & was in operation from 1896 to 1921. After the company went into liquidation the works was sold to the London Brick Co. A link to brickworks in that area in 1900

---
Farish, Chester
William Farish was a coal, flag, slate and tile merchant in Chester who seems to have diversified into brick manufacture in the later 19th century. I can find no information as to where his brickworks was situated.

---
Farnham
Photo by Richard Symonds. The company name is unclear.
---
Farnley Iron
Photo by Darrell Prest. Farnley Iron Works was founded in 1846. Farnley Iron Works produced more bricks than iron a nd eventually became part of the Leeds Fireclay Co (1889). It produced both household and firebricks. Thanks to Derek Barker for the information.
This wonderful glazed brick was discovered during the renovation of Carnforth station in Lancashire. Stephanie writes: When renovation work was being carried out by builders in the Furness and Midland Hall, they found one of the bricks was loose, high up on one of the walls, and on pulling it out and turning it round they found the other side was ceramic and ornately inscribed with the words "Farnley Iron Co Ltd Farnley, Leeds. This hadn't been seen, since it was built in the 1890's.
Photo by Derek Barker
Photo by courtesy of the Frank Lawson collection, this one is a double bull nose and is glazed.


Photo by David Kitching.

Simon Patterson photographed this example in an old school at Brampton, Chesterfield.



Spotted on the beach at Greenwich by Jonathan Bond.




Found on Spittal beach, Berwick on Tweed. Photo courtesy of Scottish Brickmarks.

---
Farrington, March


Photo by Martyn Fretwell courtesy of the Bill Richardson Collection at Southwick Hall.

---
Faulkener, Crick


Photo by Andrew Farthing who writes: Crick is a small village in Northamptonshire and I have been told that these bricks were used in the building of Crick Canal tunnel on the Leicester branch of the Grand Union Canal, but haven't yet been able to verify that!

---
Fenay Bridge
Made in Huddersfield. Photo by courtesy of the Frank Lawson collection.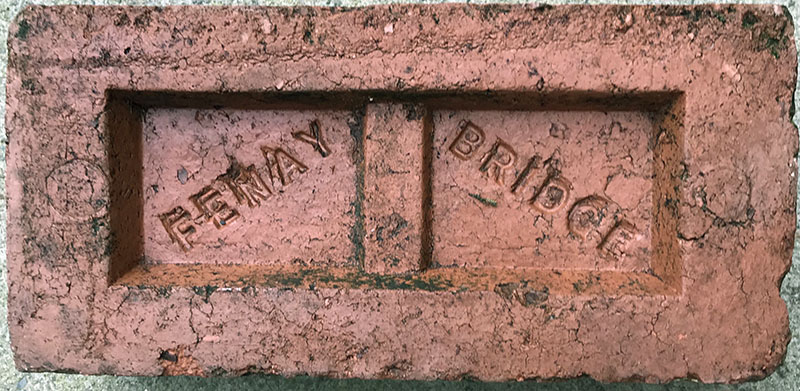 Photo by Russ Firth.
---
F. H. B. L. - Fencehouses
Found near Fencehouses, Co Durham - probably Fence Houses Brickworks Ltd. Photo by Frank Lawson.
---
Fenton/Lane End Works


Front and back on Fenton/Lane End brick




Oldfield Colliery in Fenton and its associated brickworks was owned by Balfour & Co in the 1880s.The colliery passed on to another company, the Lane End Works Ltd. by 1889. Then in September 1896 the colliery, now in the hands of the Oldfield Colliery Company was closed leaving the brickworks to operate in its own right. This yard had a sustained life through until at least 1959, when it was manufacturing refractory bricks under the ownership of D Duddell Ltd. Photos and info by David Kitching.

---
Fenton Collieries
Glebe Colliery was established by the mid nineteenth century and operated for around 100 years. From the 1860s it was operated by Challinor and Co and then by 1900, J Heath and Co. In 1919 it was in the hands of Fenton Collieries Ltd and continued to work into the nationalised era. It finally closed under the NCB in October 1964. The associated brickworks was situated a short distance to the south of the pit and had three round kilns in 1878. The brickworks was still in business in the 1930s, but had been levelled by 1953. Photo and info by David Kitching.



Photo by William Whitehead




Image PRBCO.

---
Fenton Low: see Hewitt, Fenton Low
---
Fenton Tileries
James Wood ran the Fenton Tileries, Fenton Culvert in partnership with Leonard Broughton Wood as a brick and tile manufacturer. The business is first listed in the trade directory of 1875-76 and James Wood was in banruptcy
in May 1892. It appears that the site was owned by Messrs John Challinor & Co Ltd, Glebe Colliery, Fenton, and there is a memorandum of minutes re the application by William Hill and others to take lease of Fenton Tileries
brickworks, 20 Feb 1893. Photo and information by David Kitching.
---
Ferens and Love
The company owned Cornsay Colliery in Co. Durham which produced superb fireclay as a by-product. A large brickworks was set up beside the mine. Thanks to Andrew Gardner for the photo and information.
Thanks to George for the photo.
---
Field's


Found in the walls of a building at Lion Brickworks, Scalford. A possible source is Littleworth Tileries at Hednesford in Staffordshire. In 1876 this was William Field, Littleworth Works, Hednesford 1876. 1904 William Field, Littleworth Tileries. 1924 Field's Littleworth Tileries Limited. By 1928 the business was being operated by Itters Brick Co Ltd. The works is not listed in the 1940 trade directory. Photo by Nigel Furniss


---
Findon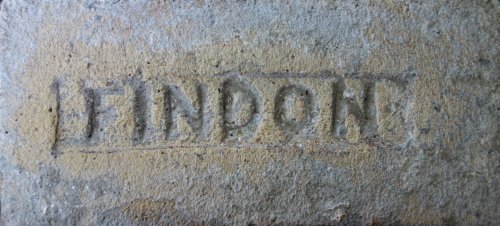 Made in Sacriston in County Durham. A local history (Rand & Nairn, 'Memories of Sacriston', 2004) says it was made by the Findon Hill Coal Company in and for a few years after 1873. Photo and info by Ian Hunter.


---
Josh. Firbank
Joseph Firbank was a contractor who was responsible for the building of railways in many parts of Britain in the nineteenth century. This brick came from a bridge on the Lewes and East Grinstead Railway, better known today as the Bluebell Railway. Firbank was the contractor for this line which opened in 1882. Photo and information by David Kitching.
---
Fire Brick


Photographed at Apedale Heritage Centre, Ken Perkins has been unable to find the maker of this red/brown brick. My only option is that it was made at a company with Fire Brick in its name, but the only one I have found is in Wednesbury, South Staffs. & out of Ken's collecting area. So any ideas please let me know.

---
Firth & Sons, Crowboro


Photo by Richard Symonds, taken at Amberley Chalkpits Museum.

---
Fish (Salmon) impression: see Colville Gibson, Newcastle
---
J B Fisher & Co, Stourbridge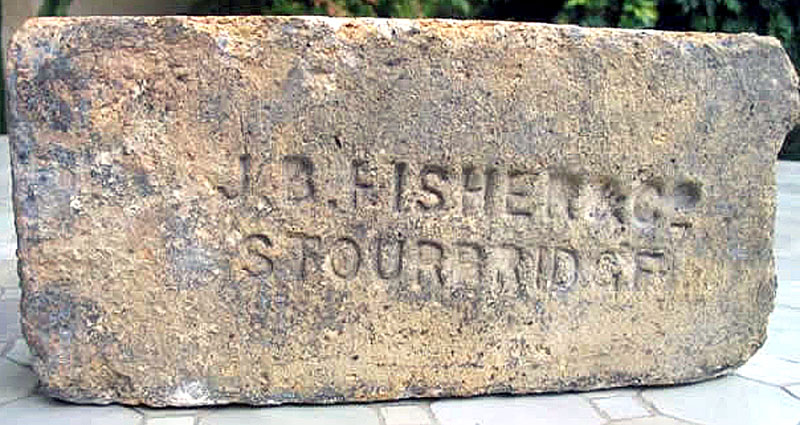 This one was found in Brazil by Luis Antonio Magnani while he was doing work in the basement of a gasometer in San Paulo. Martyn Fretwell writes J. B. Fisher & Co. owned the Hayes (fireclay) Colliery in Stourbridge from the 1860's & are listed in Kelly's at the Hayes Fireclay Works, Stourbridge in the1872 to 1892 editions. The fireclay works was then taken over by Mobberley & Perry who are recorded in Kelly's from the 1896 edition at The Hayes Brickworks, Lye, Stourbridge.

---
T Fisher


Found Sheffield, South Yorks. 2016. Thomas Fisher, Handsworth, Sheffield, list in 1881 census as brick and Chimney Pot maker, born 1853. Photo and info by courtesy of the Frank Lawson collection.

---
Fisk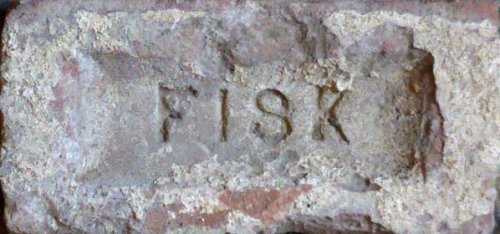 Benjamin Fisk is listed in Kellys 1869 edition at Rishangles, Eye, Suffolk. Info & Photo by Martyn Fretwell courtesy of the Bill Richardson Collection at Southwick Hall.

---
Fisons, Burwell - see Burwell
---
Fisons


Mrs. Catherine Oliver Fison is listed as owner of the Stowmarket brickworks in Kelly's 1869 to 1900 editions. The 1912 & 25 editions records the Stowmarket works as Fison & Co. The brickworks had been started in the 1830's and Fison's main interest was in producing fertilisers. Fisons purchased another fertiliser and brick works at Burwell in 1929 and more can be read under that heading. Photos & Info by Martyn Fretwell.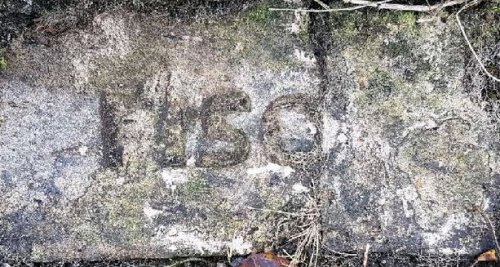 Found in Suffolk by Kelvin Dakin.

---
Fitton, Dewsbury
Photo by courtesy of the Frank Lawson collection.
Fitton's Brick and Tile Co., Pildacre, Dewsbury, West Yorkshire. Listed in Robinson 1904. Located between Dewsbury and Ossett. Image PRBCO.
---
Five Oaks, Blythe Bridge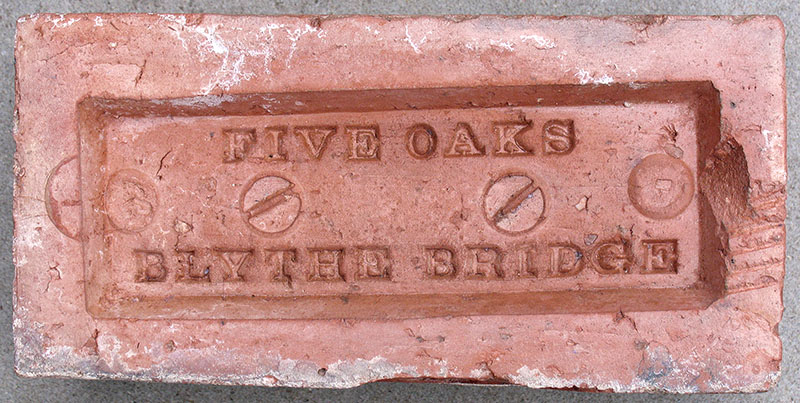 Ken Perkins records the Five Oaks brickworks at Blythe Bridge, Stoke as being in operation in 1879 & I have found two brick works marked on a 1879 map on Caverswall Road, Blythe Bridge. Info & Photo taken at Apedale Heritage Centre by Martyn Fretwell.

---
Fletcher, Bolton/Great Lever/Horwich


Found at a nearby brick reclamation site near Towcester by Nigel Furniss

Great Lever is a district of Bolton, 2km south of the town centre. Image PRBCO.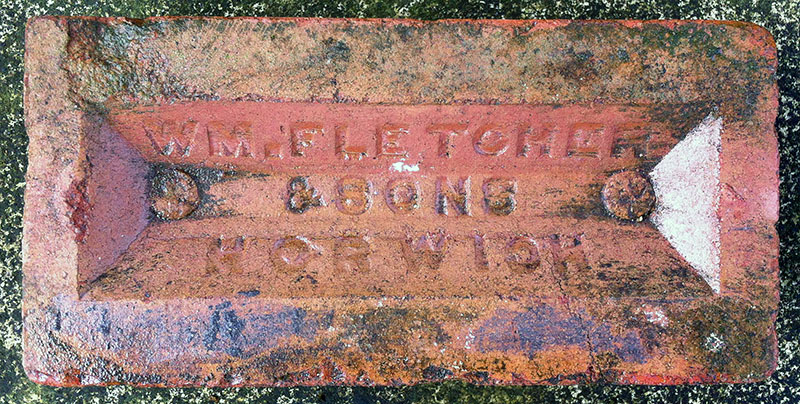 Fletcher & Sons, Horwich, a product of the same works




Photo by courtesy of the Frank Lawson collection.




Photo by Alan Davies.

---
David Fletcher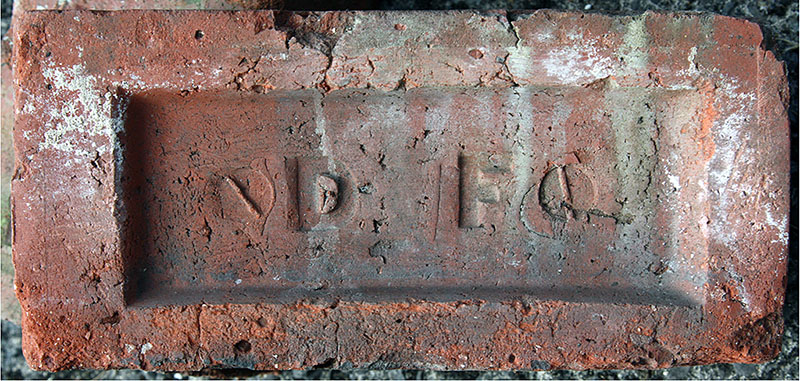 Passmonds Brickworks. 1881 census: - David Fletcher. Age 38. Brickmaker employing 4 men & 4 boys. 228 Edenfield Road, Passmonds, Rochdale. Info by Frank Lawson.

---
Fletton
Thanks to Simon Patterson for the photos. Flettons were based near Peterborough.



Fletton 1981 Centenary Brick. Photo by Martyn Fretwell.

---
Foleshill Brick & Tile Co, Longford, Coventry


Photo by David Kitching.

---
Fontley, Fareham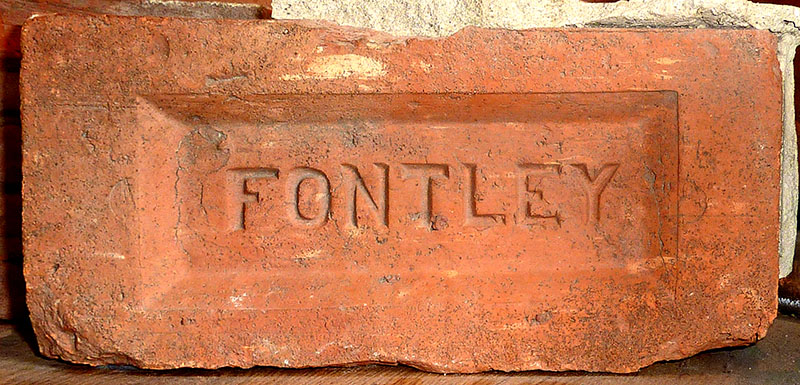 The Fontley Brick & Tile Co. was in the village of Funtley, Hampshire (also locally known as Fontley) and they were producing hand-made bricks from the 1850's to 1923 when they then produced bricks & tiles by machine. Well known as 'Fareham Reds' these bricks were used in the building of the Royal Albert Hall in London. In 1916. John Thomas Chappell & his wife Elizabeth are recorded in the London Gazette as co-owners of the company. The works closed in 1967. Info & Photos taken at Westbury Manor Museum, Fareham by Martyn Fretwell.

---
Ford
---
William Ford
William Ford was a builder living in Chell and Fegg Hayes districts of North Staffordshire who in the 1840s and 50s had brickmaking interests in Navigation Road and Nile Street, Burslem and also at nearby Sneyd. In the 1860s and early 70s he was a coal master and then an agent and there are no brickworks listings for his name in trade directories. under his name for brickworks. He reappears in 1876 and 1880 and in the 1881 census as a brick manufacturer living in Burslem with a works in Fegg Hayes which is where this brick was found when houses were demolished.

---
Ford Lane Brick Works, Crewe


Found in an 1877 built house on Samuel Street, Crewe by Mark Stanley.

---
Forest, Walsall
Photo by courtesy of the Frank Lawson collection.
---
Fosilsil
Fosilsil Solid. Origins unknown.
---
Foster


Thanks to Maurice Atherton for the photo.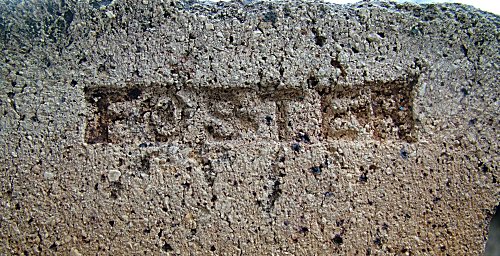 A Foster firebrick, thanks to George Simpson for the photo.

Photographed in Staveley by Simon Patterson
Foster Crown, thanks to Darren Haywood for the photo.



Both photographed at Corris by Martyn Fretwell. Possibly made by Henry Foster at his Hotspur Brickworks, Backworth, Newcastle which opened in 1877. The works was taken over by General Refactories in 1955 & it closed in 1967. HG stands for High Grade which was fired at 1250 degrees F. Info by Martyn Fretwell.

---
Fosters, Bishop Auckland


Henry Foster, Todhills Brickworks, Bishop Auckland, Co. Durham. Established in the mid-1930's, on the site of the former railway station, the firm of Henry Foster at Todhills near Bishop Auckland continued in production until 1979, from which date the business has passed through a succession of ownerships, today being part of the Wienerberger Group. Photo and info by Arthur Brickman.

---
Fosters Brick, Felling
Felling is a district of Gateshead. Photo by courtesy of the Frank Lawson collection.

---
Foulkes


Front and back of a Thomas Foulkes brick, who was brickmaker at Kilbourne, Derby & is recorded in Kelly's 1876 edition. Note the old fashioned spelling of Kilburn, which is a village just north of Derby just off the A38. Photos & Info by Martyn Fretwell.
---
Fountain & Burnley
Photos by courtesy of the Frank Lawson collection. Found in Bessacar near Doncaster. Phillip Rothery adds: This is made by Fountain & Burnley, Mapplewell Brickworks, Darton near Barnsley. This site is listed in trade directories between 1904 and 1927. The company also owned the nearby North Gawber colliery 1882 - 1947 and Woolley Colliery 1910 - 1947.
---
H Fowell & Son, Gnosall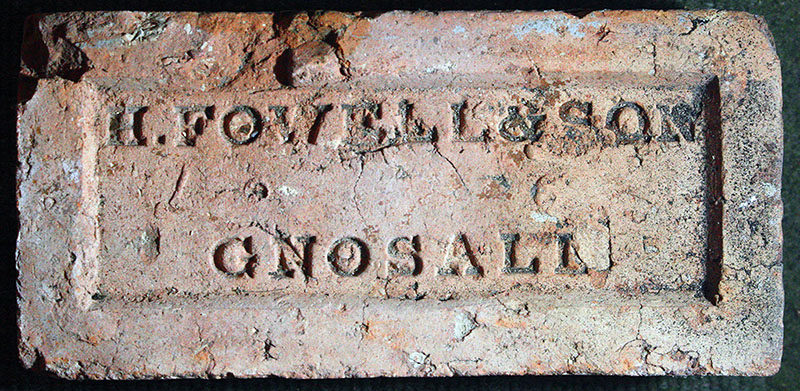 ---
S Fox


Photo by Colin Wooldridge from the John Cooksey Collection.

---
W & G Fox


Photo by Nigel Furniss, maker not known.

---
Foxley Brick Co., Milton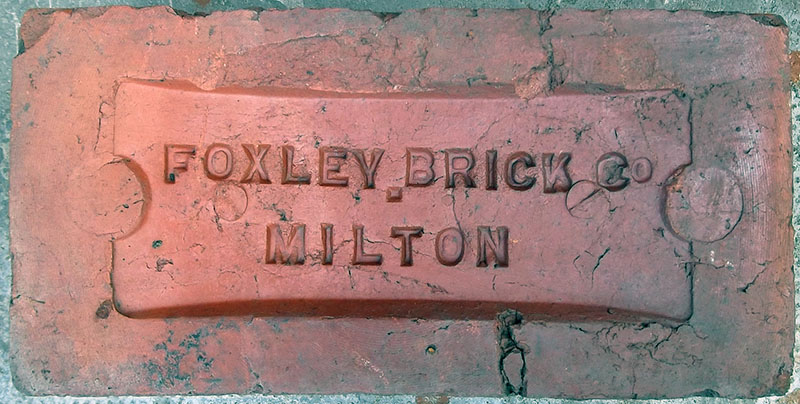 Only info that I have for this brickworks is that it shown next to the canal at Foxley Bridge, Milton, Stoke-on-Trent on a OS map which was surveyed in 1878. Info by Martyn Fretwell. Photographed at Apedale Heritage Centre by Ken Perkins.

---
J Foxon, Belgrave


John Foxon had a brick works in Belgrave , Leicester ,from 1875 to about 1885. He employed five men and one boy on the 1881 census and lived at 25 Loughborough Road , around half a mile from the works. Photo and info by Dennis Gamble.

---
France, Hindley
Photo by Malcolm Brown.
---
Fraser Woodbridge


Fraser Woodbridge is listed as brickmaker at Holyport, Maidenhead in Kellys 1887 & 1899 editions. Photo & info by Martyn Fretwell.

---
W & C French


Kellys 1899 to 1933 editions list William & Charles French as operating two works, Lower Queens Road, Buckhurst Hill & Ray Lodge brickfields, Snakes Lane, Woodford Green. Photo & Info by Martyn Fretwell.


---
---
Frenchay


Made in Bristol and found in Cardiff by Richard Paterson.

---
Freshfield Lane Brickworks
Freshfield Lane Brickworks at Danehill, Sussex, was established over one hundred years ago and is now part of Michelmersh Brick Holdings PLC. Photo and info by Martyn Fretwell. Also see entry for Michelmersh Brick Co. Many Thanks to Richard Symonds for the early history. - The brickworks was started in 1899 on the west side of Freshfield Lane in the Parish of Horsted Keynes In 1907, brothers John & Alfred Setford, were recorded as brickmakers at the works. From 1927 onwards the company traded as Freshfield Lane Brickworks and was owned by the Hardy Family. They produce sand-faced, clamp-fired stocks and were still in production in 1993. Reference Sussex Industrial Archaeology Society Gazeteer.
Photo by Guy Morgan.
---
Frisby, Tardebigge
Simon Patterson photographed this one at Avoncroft Museum
---
J. Frogett
This is a product of Jno Froggatt of North Wingfield, Derbyshire, listed as brickmaker in the 1857 White's Directory of Derbyshire. Photo and information by David Kitching.

---
Frost


Henry George Frost, produced bricks at his Sicklesmere works near Bury St. Edmunds between 1900 & 1914. Kellys 1912 edition lists him at Out Westgate, Bury & works Sicklesmere. Info & Photo by Martyn Fretwell.
---
Fryer (Co. Durham)


Photos taken by Gary Scurr at the remains of an old lead smelt mill in Frosterley, County Durham. Arthur Brickman adds: Joseph Fryer was the owner of Bitchburn Colliery (also known as Beechburn) and associated Firebrick Works near Howden-le-Wear in South-west Durham during the 1880's, so it would be safe to assume that both the 'Fryer' and 'J.F.' branded bricks were produced there under his tenure, their find location being less than ten miles by direct rail-link to the works. (Ref: Durham Mining Museum & Kelly 1884, J. Fryer)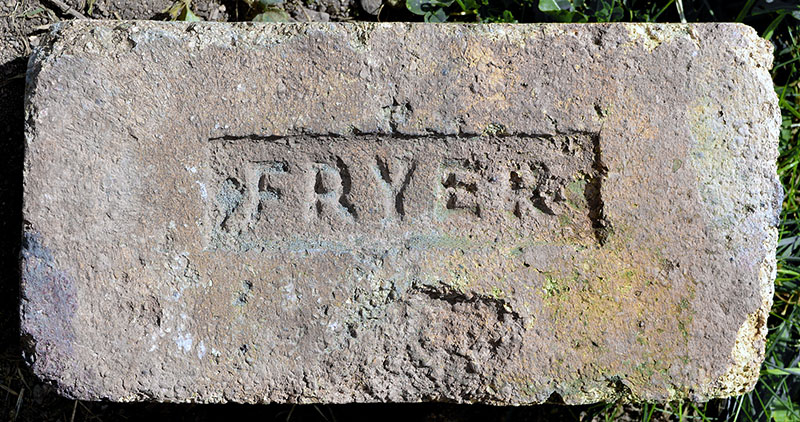 Photo by courtesy of the Frank Lawson collection.

---
Alfred Fuller
Alfred Fuller bought land next to the railway station on Station Road, Warboys, Huntingdonshire for his brickworks between 1891 & 1896. Alfred Fuller is listed in Kellys 1898 edition at Warboys with offices at High Street, Ramsey. Kellys 1910 edition now reads Alfred Fuller (exors of). The works is next listed in Kellys 1914 edition as being owned by the Warboys Brick Works Company. This company then sold the works to LBC in 1923. Info & Photo by Martyn Fretwell.
---
Funton


Photo by Vladimir Smirnov. Funton bricks are still made today by Ibstock




Photo by courtesy of the Richard Symonds collection.

---
Furn-Axe: see Burn Fireclay Co.
---
Furness, Askham in Furness
Askam-in-Furness is located 8km north of Barrow-in-Furness. Brickworks aside Barrow to Millom railway line. Still operative 2010. Image PRBCO.

---
Furness, Barrow
Furness Brick and Tile Co., Barrow-in-Furness operated c1898 - 1972 - Angus Glasgow. Image PRBCO.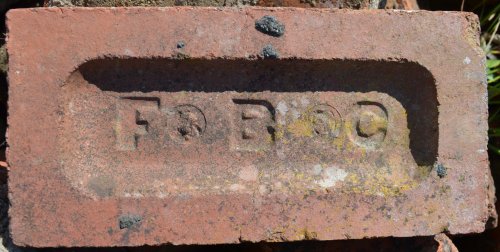 Found at the old paper mill site in Barrow in Furness by Richard Cornish.




Both found in Barrow by Richard Cornish. A 1901 visit to the works gives some information.

---
Futcher, Salisbury


Robert Futcher had many interests - supplier of building materials, timber merchant, contractor and speculator - and only seems to have made bricks in Fisherton for about five years around 1860 and also for about five years in the late 1870s in Bemerton. The earliest reference to the industry in Fisherton was in 1685 when 20 acres were in 'Brickilln Furlong in the Middle Field'. Expansion in the 18th century was continued into the 19th century, by the end of which the deposits were either worked out or built over - the area lies between Wilton and Salisbury in a desirable residential district. The first reference to brickmaking in Bemerton was in 1801 when a brick-kiln leased to Mr Ford was offered for sale. The local 'brickearth' is probably chalk derived and is capable of producing red or cream/grey bricks depending on oxidisation or reduction during firing. Salisbury Guildhall is built of 'Fisherton Grey' and these bricks give a distinctive appearance to many of the 19th century buildings in the city. Photo and info by Jamie Wright.

See Fisherton and Bemerton Brickyards by Jamie Wright, to be published by South Wiltshire Industrial Archaeology Society.

---
Fyfe
Mr John Rhodes Fyfe started 'Shipley Firebrick Works' (later called the Sanitary Tube and Brick Works) at the Shipley end of Heaton Woods, Bradford around 1875. The works continued in operation for about 50 years. As well as refractory fire bricks for furnaces, his works made household bricks, salt-glazed sinks, animal troughs and chimney pots. Coal pits and a quarry site were associated with the brick-works. I have seen both [FYFE] and [SHIPLEY] brick-marks on opposite sides of a double frogged, pressed, fire-brick. Another brickmark used was [J R FYFE & Co][SHIPLEY]. A plan of the works dating to 1877 survives in the West Yorkshire Archives. The works with its beehive kilns is mapped on the OS 1890-91 which also shows the old coal pit on site. This seems to have been abandoned by the 1908 OS map to be replaced by a drift mine under an adjacent hillside with the products reaching the works by means of a short tramway; after this there seems to have been a second drift with an entrance in the quarry north of the site. The works have been demolished by the time of the 1934 OS revision. Thanks to Derek Barker for photos and information.
---