Hudswell Clarke Locomotives
'Bromborough'. This locomotive (Hudswell Clarke 327/1889), seen here at Lord Pit, was purchased second hand in 1896 at a cost of £225, having previously been employed on the construction of the Manchester Ship Canal. It is thought to have left Poynton c1908 but survived in industrial service until 1964.
'Sir William Anson' (No.3) HC734/05. Purchased new from Hudswell Clarke.
'Sir William Anson' c1933
No.5 (Hudswell Clarke 874/1909) ex Stockport Corporation Kinder Waterworks construction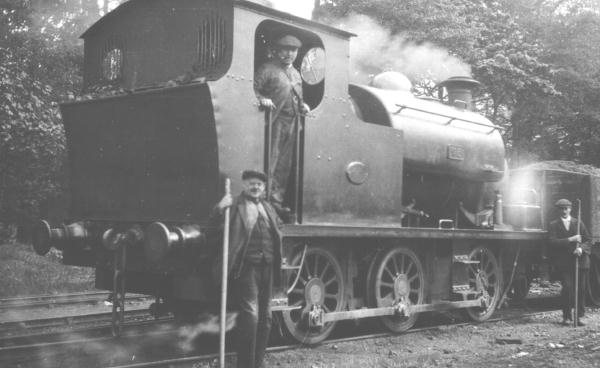 No.5 was sold to Lord Vernon in December 1911 for £830. It was still in the shed at Lady Pit in January 1936 but was shortly after sold to Sir Robert McAlpine and Co. Later service with the National Coal Board took it to South Wales where it was scrapped at Glyncastle Colliery in February 1964.
No.5 in action on 24.8.33
Back to colliery railway main image link page


Clickable Map for images of Collieries and Railways
Poynton Collieries Index
---
© David Kitching 2003

Last updated 14.12.03